Rabona Mobile, virtual operator on the Vodafone network, has decided to give its two spearheads a further chance. We are talking about Top Pressing And Counterattackthe two top players from Rabona.
This Italian operator with an outlook oriented towards the most popular sport in Italy, always offers very interesting solutions.
Specifically today, we'll take a look at the rates Top Pressing And Counterattackavailable from € 7.99 per month.
Rabona Top Pressing and Counter Attack: these are not just football terms!
These two promotions are suitable for those who love to always have the maximum of Giga available every month without being anxious about having to go to consumption once the data bundle is finished.
The first one we will see today is called Counterattacka very common playing technique that is usually used in football and specifically offers 200 Giga of internet traffic in 4G on the Giga Network by Vodafone, unlimited minutes to any Italian fixed or mobile operator and unlimited messages and to everyone. The starting price is 7.99 euros per month for those coming from Kena Mobilewhile, it increases by one euro for those who decide to pass their number from Very Mobile or from ho.mobile.
The alternative, called Top Pressingoffers instead 171GB of the internet always on LTE on the red operator's network, unlimited minutes of calls to all national mobile and landline operators and SMS always without limits and to any carrier. In this case the price is € 8.99 each month and is valid for those passing through Rabona from any manager.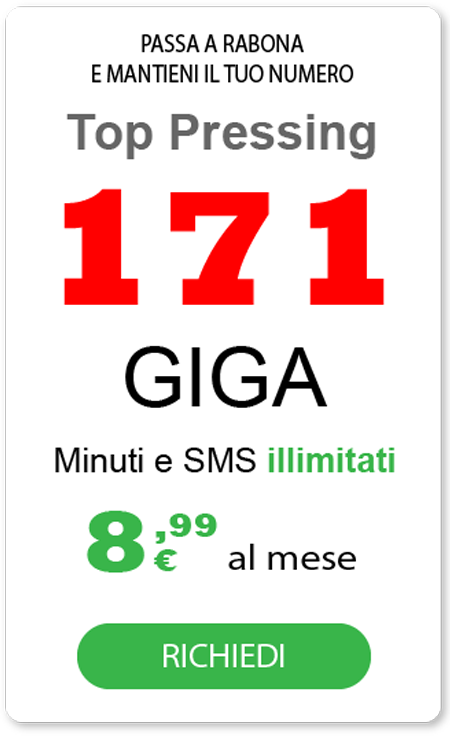 All rates of this virtual operator are free of constraints and provide for the debit of the residual credit of the SIM. An initial contribution of € 19.99 one-time fee – on offer instead of € 25 – with € 25 of free credit.
In addition to the initial cost, a top-up of 10 euros to cope with the first month.