To find out when we will be able to see them in Europe we will have to wait until January 26, when Huawei will hold an event in which it will present Huawei P50 Pro and Huawei P50 Pocket, the two top of the range already available on the Chinese market. In the meantime, the Chinese manufacturer, which has been grappling with problems related to the US trade ban for over two years, has made the two smartphones available on global markets.
Huawei P50 Pro and P50 Pocket arrive
Some feared that the versions intended for global markets might have some differences compared to the models launched at home, but Huawei has not touched the hardware sector, thus confirming the excellent technical data sheets that we are going to quickly summarize.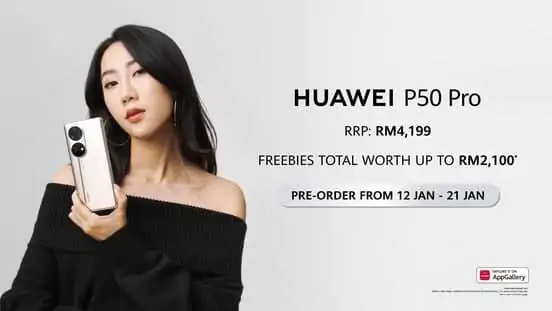 Huawei P50 Pro can count on one FullHD + OLED screen 6.6-inch (2700 x 1228 pixels), 120Hz refresh rate, and touch sampling rate at 300 Hz capable of reproducing over a billion colors. Under the body, we find a Snapdragon 888 with only 4G connectivity, flanked by 8 GB of RAM and 256 GB of internal memory.
The photographic sector is at the top, featuring the 50-megapixel True Chroma main sensor flanked by a 40-megapixel True Chroma sensor, a 13-megapixel ultra-wide-angle lens sensor, and a 64-megapixel optical zoom. On the front instead, there is a 13-megapixel sensor for selfies.
The battery reaches a capacity of 4,360 mAh with fast charging wired at 66 watts and wireless at 50 watts. Excellent connectivity, with 4G, WiFi 6, Bluetooth 5., 2, USB Type-C, NFC, and support for SBC, AAC, and LDAC for quality audio.
The price in Malaysia, the only global market in which the Huawei P50 Pro is available, is 4,199 ringgit, equal to about 882 euros. The smartphone is already pre-orderable from today until January 21st.
The same goes for Huawei P50 Pocket, which does not change one iota compared to the Chinese model. 1.04 inch external screen (340 x 340 pixels) eg6.9-inch internal screen (2790 x 1188 pixels) at 120 Hz. Under the body, the Snapdragon 888 4G returns with 8/12 GB of RAM and 256/512 GB of internal memory.
The camera consists of a 40-megapixel True Chroma sensor, a 13-megapixel ultra-wide-angle, and a 32-megapixel Ultra Spectrum Camera, while on the front "it is inserted into a 10.7-megapixel sensor for selfies.
The 4,000 mAh battery is supported by wired fast charging at 40 watts, while connectivity includes WiFi 6, Bluetooth 5.2, NFC, and USB Type-C.
In Malaysia, the Huawei P50 Pocket costs 5,999 ringgit (1,262 euros) in the 8-256 GB version and 7,299 ringgit (1,536 euros) in the 12-512 GB version. Pre-orders will be active from January 22nd to February 13th.