Launch of Fiber, a purchase proposal for the Italian division Vodafone (later rejected) and very satisfied customers: in short, Iliad's 2022 has really started in the best way. Today, February 25, 2022, the French company inaugurated a new one Iliad Store in Rimini (Emilia Romagna) reaching 25 Iliad Store in Italy (this is the third Iliad Store in the aforementioned region).
The Rimini store, whose opening had been scheduled for some time, was inaugurated a couple of months after the opening of the Iliad store in Pescara.
Rimini is Iliad's 25th flagship store
The new Iliad Store Rimini is the first to open its doors after the launch of the branded fiber Iliadwhich debuted on the landline market exactly one month ago.
The Rimini shop is situated at the Le Befane Shopping Center (via Caduti di Nassiriya, 20), located on the upper floor: to properly honor the inauguration, the store was decorated with balloons and ribbons, there was a photoboot and the participants in the event received free gadgets (image below) .
Iliad however, it was already present at the aforementioned shopping center through two Iliad Corners and an Iliad Express: in fact, in the Romagna city there were (so far) only Iliad Corner, Iliad Point and Iliad Express. With the inauguration of this new flagship store, Iliad brings the total number of flagship stores in Emilia Romagna to 3 and the total number in Italy to 25.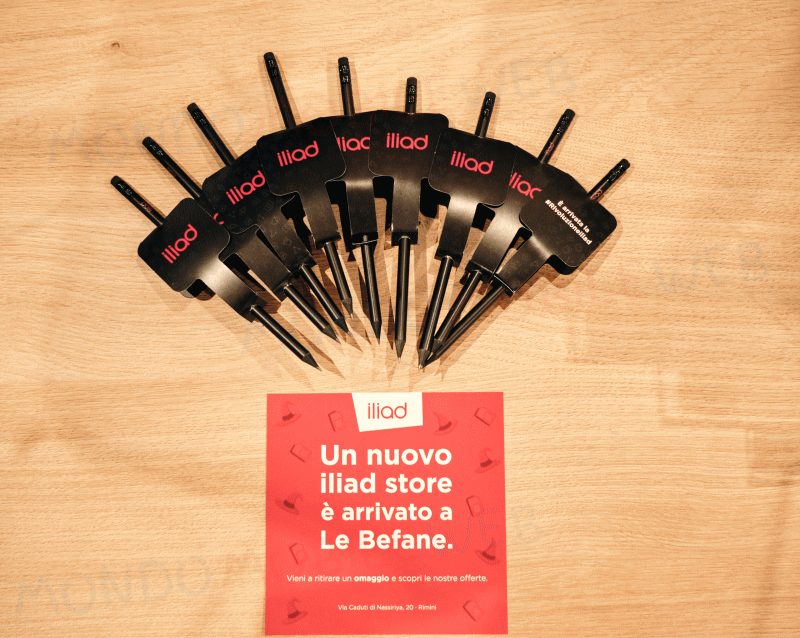 In the Iliad Store in Rimini, as well as in all the Iliad Stores throughout the country, it will still be possible to use the SIMBOXes (as in the Iliad Corners), but the purchase will be supervised by the presence of specialized staff who will help customers in case of any problems during the purchase or after-sales.
The expansionist policy of the French brand, which now has more than 3500 points of sale in Italy (including Iliad Store, Iliad Corner, Iliad Point and Iliad Express), does not seem to end here: to tell you the truth, just yesterday we told you that Iliad is looking for staff for the opening of a new store in Brescia.
If you are interested in knowing all Iliad offers, just follow this link.
You may also be interested in: the best telephone offers from Vodafone, TIM, Iliad and WINDTRE