Motorola seems willing to close 2021 in the name of records: it wants to be the first company to launch on the market a smartphone equipped with Qualcomm's new top-of-the-range platform, Snapdragon 8 Gen 1, but also to make its mark in a particular sub-segment, that of smartphones with front cameras under the display (UDC).
To reiterate this desire, the statements of Motorola's General Manager, Chen Jin, and a post published by the company's official Weibo account have intervened in the past few hours. Both confirm that Motorola Edge X30 will be the first smartphone with a front camera under the display with a 60-megapixel sensor, an absolute first for a UDC. And it will also be their first UDC camera managed by Snapdragon 8 Gen 1.
Chen Jin published the image rendering shown at the opening showing the front of the smartphone on which there is no trace of a hole for the front camera (or notch).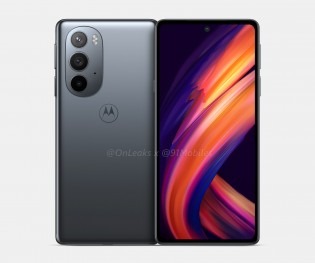 It is worth highlighting that the executive specifies how the 60MP UDC will be the prerogative of a special version of the smartphone. It is not yet known how many variants it will be offered and which of these variants will arrive in international markets – please note that Motorola Edge X30 should be marketed as Motorola Edge 30 Ultra worldwide.
Their presentation of the smartphone is set for next December 9th, but you can start making a consideration right on the front camera below the display. Previous uses of this technology have shown that it has yet to mature. Even ZTE, among the first to use it, has not ventured beyond the limits of a 16MP sensor with Axon 30 5G. Now Motorola not only offers a technology that has objective room for improvement but raises the resolution of the sensor beyond all expectations. One of the two: either the company has actually developed a technically valid solution, able to make the UDC take an unexpected step forward, or it is aiming for the pure and simple record, for the greatest number of megapixels to amaze, without, however, being able to guarantee high-level performance. For the answer, we will have to wait for the first tests of the Edge X30 front camera.
They remember the main features of the smartphone, as outlined by the official confirmations and previous rumors: Snapdragon 8 Gen 1, 6.67 "FHD + display with 144Hz refresh rate and HDR10 + support, triple rear camera with dual 50MP sensors (combined with wide-angle and ultra-wide angle lenses respectively) and 2MP sensor for depth of field detection, 5,000 mAh battery with 68W fast charging.