Hua Hegang, President of Consumer Business Mobile Phone Product Line Huawei, which would have gone by the end of the year smartwatch capable of measuring blood pressure, and the promise was kept: Huawei Watch D is official in China. The new product had been the protagonist of a substantial indiscretion in recent days that had revealed its appearance and part of the features, including the certification of second-class medical device: this is also true, Huawei Watch D is approved by China Food and Drugs Administration.
And it's a product with a not too bold design – square case with 2.5D display – which nevertheless includes the features of a high-end smartwatch together with the possibility of keeping track of the systolic and diastolic pressure values, however with accuracy which Huawei claims to be in the order of 3 mm of mercury: Not even Apple Watch Series 7 can do that. Like the latter and the Series 6, the Huawei Watch D is also capable of performing an electrocardiogram on the wrist, with the possibility of requesting free medical consultations for one year to interpret the result of the ECG.
Huawei relies heavily on collaboration with doctors, not only for a consultation on ECGs: the company provides an active service 24 hours a day 7 days a week. online specialist advice, with physicians providing the user with personalized plans for health improvement, interpretation of the values ​​collected during the week, and, possibly, may warn of health risks itself, to intervene in time if needed.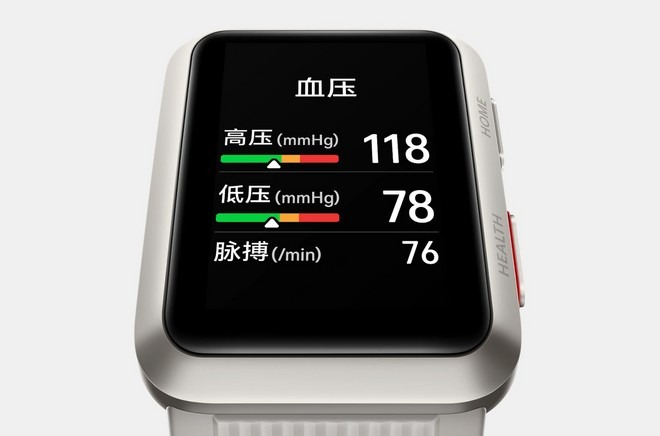 Huawei Watch D is capable of identifying the risk of arteriosclerosis and arrhythmia, intercepting sleep apnea, and monitoring body temperature. Then there are the typical features that are expected from a high-end smartwatch, then the monitoring of sports activities (over 70), stress and sleep, payments via NFC, a wide range of apps, and then there is autonomy with surprising declared value: according to the company you can keep Watch D on your wrist for up to 7 days without needing a recharge.
HUAWEI WATCH D SPECIFICATIONS AND PRICE
screen: 1.64-inch AMOLED, 456 x 280 pixels, 326 pixels per inch
sensors: accelerometer, gyroscope, heart rate, temperature, pressure, SpO2, ECG
connectivity: GPS, NFC, Bluetooth 5.1 LE
no speaker
certifications: IP68
compatibility:

Android 6.0 and later
iOS 12.0 and later
HarmonyOS 2 and later

battery:

autonomy: up to 7 days
charging: wireless

size: 51x 38 x 13.6 mm
weight: 40.9 grams without strap
cash desk: aluminum

colors: black or titanium
Huawei Watch D will be for sale in China as of December 25 for 2,988 Yuan, equivalent to 415 euros approximately. For the moment, no information on marketing outside the home market.