After having previewed it at CES, Intel has officially launched the new NUC acronym that identifies the family of mini PCs of the American house. Mini so to speak because, generation after generation, the attribute refers to the size of the case and much less to the performance. The latest model, the NUC 12 Extremecode name Dragon Canyonamply demonstrates it: it is the first to support 12th Generation Intel Core processorsas well as the most powerful NUC ever made.
Other distinctive features? There is room for a dual-slot 30cm video card. The dimensions of the case are equal to 35.56 x 12 x 18.8 cm, it does not reach the record levels of its other predecessors, but for a very good reason considering the components it can accommodate.
UP TO THE INTEL CORE I9-12900
The heart of the NUC 12 Extreme is represented by the main board on which the processor will be pre-installed: these are Intel Alder Lake models and more in detail the Core i9-12900 with eight P and eight E cores and a total of 24 threads, or the Core i7-12700 with eight P cores and four E cores and a total of 20 threads. These are processors installed on sockets (not soldered to the motherboard), so in theory the buyer may be able to replace them in the future.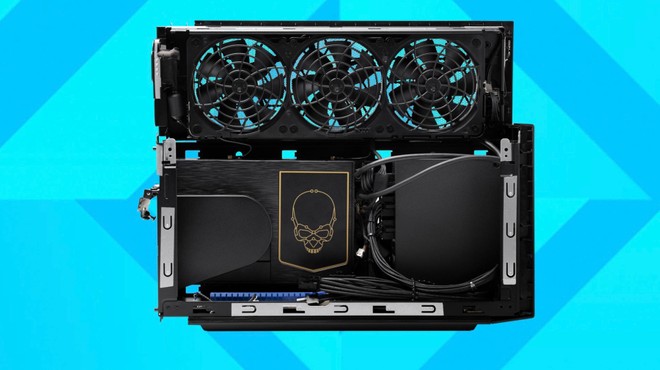 Other noteworthy features of the NUC Extreme platform include:
Intel UHD 770 (32EU) graphics card – we are talking about the integrated one, to which the aforementioned dedicated card can be associated

Support DDR4-3200 MHz SODIMM memory up to 64GB dual-channel

PCIe Gen5 x16 graphics card support (backward compatible with PCIe Gen5 x16 devices

Support up to 3 PCIe Gen4 M.2 SSDs

Two Thunderbolt 4 ports, Intel Wi-Fi 6E AX211, 1 10Gbps Ethernet port, 1 additional 2.5Gbps Ethernet port on models with Intel Core i9
PRICES AND AVAILABILITY
Intel has provided the first confirmations on pricing and availability of the new NUC: it will be available starting from the second quarter of 2022 with prices ranging from $ 1,150 for the i7 model (NUC12EDBi7) to $ 1,450 for the i9-12900 variant (. Please note that, like all NUCs, it is a desktop system that must then be completed with RAM, storage, operating system and (possibly) dedicated memory card.