The new Samsung Galaxy Tab S8, Samsung Galaxy Tab S8 + and Samsung Galaxy Tab S8 Ultra tablets will be officially announced in a few days at Galaxy Unpacked 2022 (where they will shoulder the new Samsung Galaxy S22) – you can and today we are ready to show you the first live photo of the top model with its notorious feature.
We have already spoken repeatedly in recent weeks of Samsung's next reference tablet – which as always will occupy a prominent place in the panorama of Android tablets: between official images and videos (later removed by the manufacturer), complete specifications inadvertently confirmed by Amazon and European list prices, by now there is very little left to announce.
Today, however, there is another first to deceive the wait for the Samsung event: the first live photo of Samsung Galaxy Tab S8 Ultrashared on Twitter by @GaryeonHan. As you can see below, the photo confirms what we have already known for some time: the new flagship tablet of the South Korean manufacturer will have a notch to make room for a double front camera.
The notch was also necessary because Samsung has decided to reduce the bezels surrounding the huge 14.6-inch display with an aspect ratio of 16:10 (it will be a Super AMOLED with an adaptive refresh rate up to 120 Hz). According to the leaks, both cameras will have a resolution of 12 MP.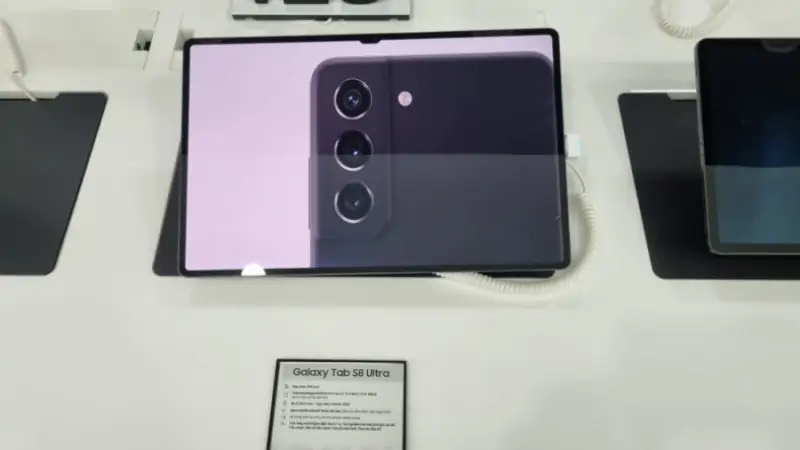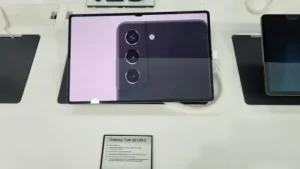 Although the tablet, like its associates, has not yet been officially presented, the photo seems to have been taken inside a shop, so much so that under the device you can also see the classic tag with the summary of the main features.
What impression have you made of Samsung's new premium tablet so far? Let us know in the comments.
It might also interest you: Samsung Galaxy S22 and Tab S8 as if they were official: only the announcement is missing