The usual barometer of nPerf established that even during 2021 it was Vodafone the best Italian operator in terms of mobile connections. This is the fourth consecutive victory for the red operator, who was again able to earn the top step of the podium "beating" TIM, WINDTRE and Iliad.
Vodafone offers the best mobile connection in Italy according to nPerf
During 2021, 580,614 tests were accumulated through the nPerf app, which led to the analysis of the performance of the various Italian mobile connections from 2G to 5G. Vodafone obtained the best overall result, winning in all the barometer indicators except that of latency (where TIM has the best, by a little). Vodafone and WINDTRE are the ones to have achieved the greatest improvements in the score, rising respectively 10,000 and 8,000 points.
The final ranking places Vodafone in first place with 77.052 points, followed by WINDTRE (68,412), TIM (65,996) and Iliad (58.929): the red operator achieved the best success rate (90.02%), the highest average speed in both download (63.02 Mb / s) and upload (13.73 Mb / s) and the best browsing experiences (70.31%) and YouTube streaming (75.81%). You can see the scores in the following table.
The latest addition, Iliad, does quite well in the success rate (second place for very little), in the download speed (45.58 Mb / s) and in the YouTube streaming (72.87%), but does not shine in the upload speed (fourth place with 8.06 Mb / s) and latency (fourth place with large gap with 75.63 ms).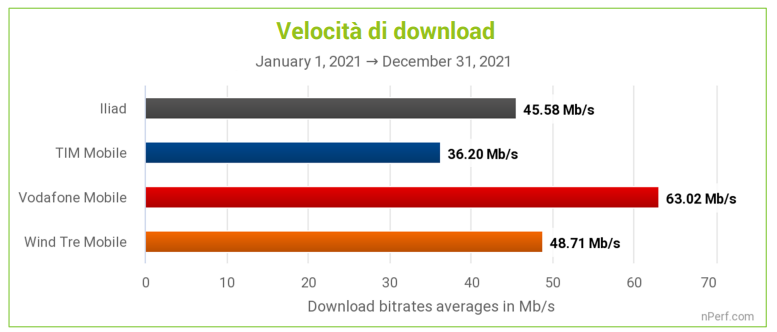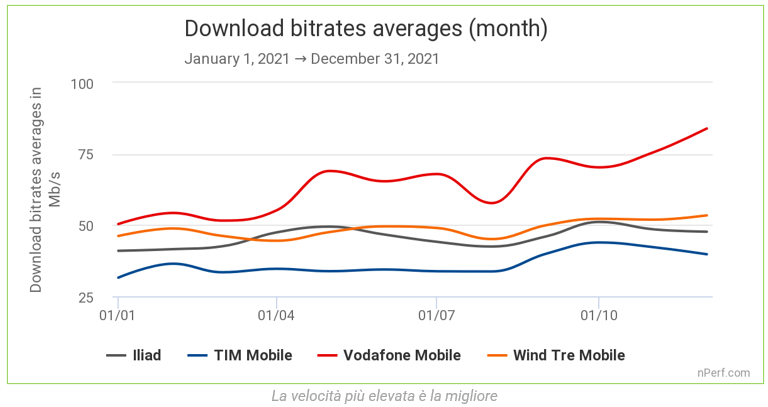 The general performance improved significantly with good speed increases and an upload return to pre-pandemic levels. The data is collected through tests performed by users with the free nPerf app, which can be downloaded for Android and iOS devices from the Google Play Store and App Store. The browsing test scores allow you to measure the loading time of the five websites most frequented by Italian Internet users, excluding YouTube which has a separate test: it can therefore be partly influenced by the performance of the terminal used (but this also applies to others parameters).
If you want to know more about the nPerf barometer you can consult the complete documentation at this link. To contribute, you can download the app by following the badge below.
You might be interested in: best telephone offers