From the platform Indiegogo, a new interesting project in search of funds arrives which has as its protagonist a system capable of improving the multimedia potential of the car stereo system: we are talking about Robotics.
It is a solution that has been designed to "unlock" the capabilities of a car stereo by adding the full Android experience, all through a small device called Carbotics Carplay2Droid-4g, which makes the vehicle radio autonomous from the smartphone.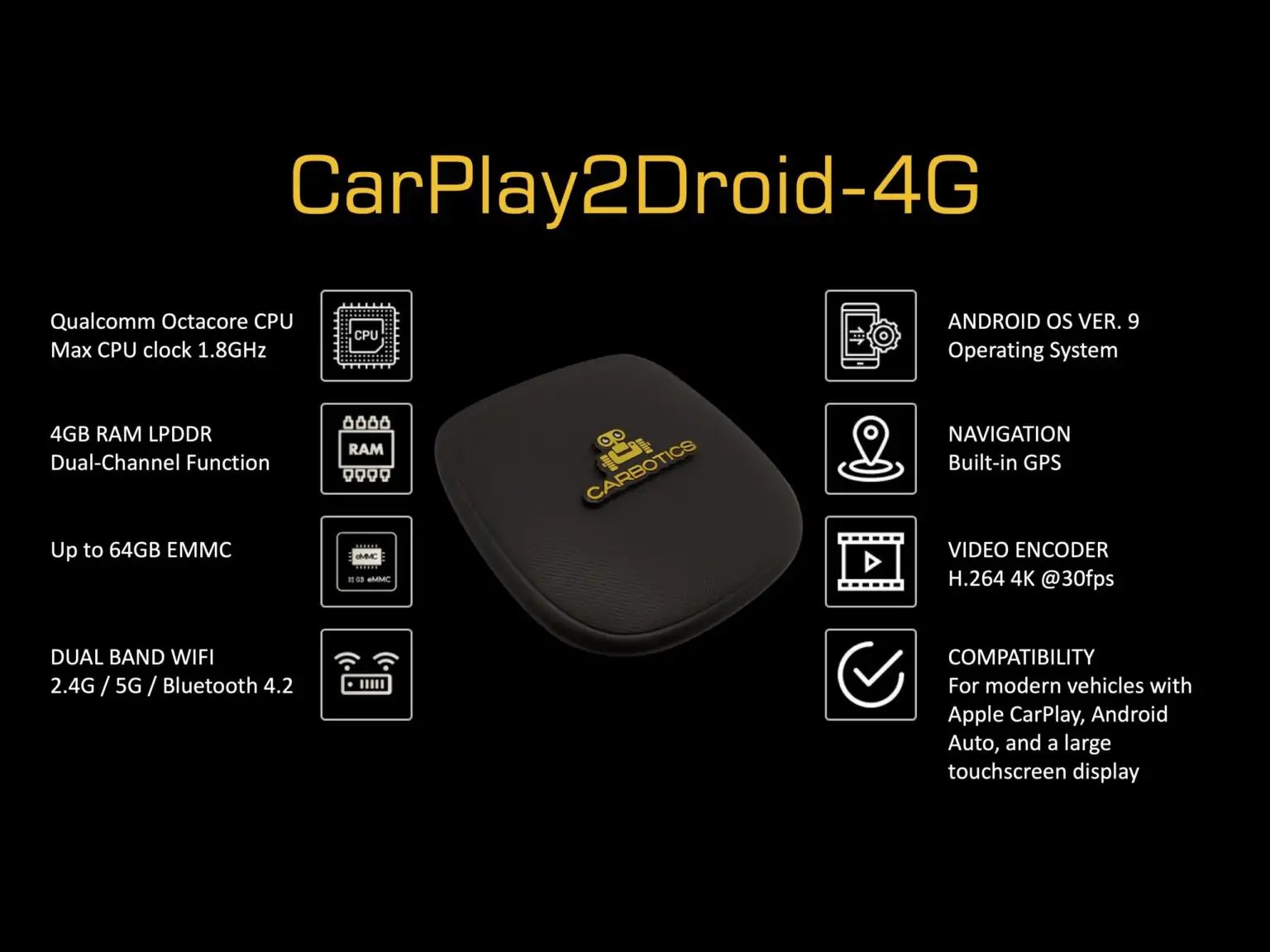 What is Carbotics CarPlay2Droid-4G for
This is the technical equipment of Carplay2Droid-4g:
Qualcomm octa-core 1.8 GHz processor
4 GB of RAM
64GB of onboard memory (expandable via MicroSD card slot)
integrated 4G LTE and 3G antenna
Integrated GPS
Android 9.0 operating system
support CarPlay, Android Auto and Mirrorlink
dual Bluetooth BLE4.2 / BT5.0
support phone call function
Google Play Store support
support for voice controls
In practice, Carplay2Droid-4g is specifically designed to be used as a sort of upgrade and enhancement of a normal car stereo, effectively making the user free from the need to use their phone to share the necessary resources (such as the GPS module or the data connectivity).
Thanks to the integrated GPS module and the slot for one SIM card, this device can guarantee users to take advantage of the various satellite navigation programs independently and to make and receive telephone calls or enjoy streaming multimedia content.
Still to say of the team that created Carplay2Droid-4g, one of its strengths is the installation system which, through a USB port, should take less than a minute, supporting the vehicles of the main brands.
The manufacturers also made a model without 4G connectivity, called Carbotics Carplay2Droid, which only has 2GB of RAM, 32GB of onboard memory, and doesn't support voice commands.
The price of these two devices during the campaign is $ 169 for the "base" model and $ 199 for the one with 4G connectivity, while shipments should start by the end of December.
For more information, please refer to the dedicated page on Indiegogo.