Speaking of his investments in electrification, Audi had hinted at his pilot project of creating fast-charging stations in urban areas to allow customers to easily supply energy if they do not have a recharging point at home. The house of the 4 rings had also claimed that its first "Audi charging hub" would have been inaugurated on December 23rd. Now, the automaker has delved into the details of this interesting project.
STARTING FROM NUREMBERG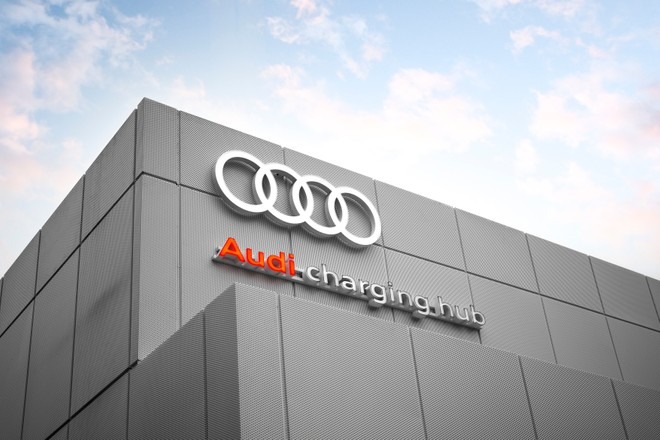 The first of these stations were built at the Nuremberg exhibition center. The structure was also designed to compensate for peaks in energy demand in urban areas, making it possible to spread these stations regardless of the extent of the local network.
This station developed by Audi includes a series of columns, a power supply line, and an energy storage system using lithium-ion batteries. The accumulators are of automotive origin and instead of being recycled, they are reused as storage systems. In the specific case, they will allow managing the peak phases in the energy demand thanks to three modules with a total capacity of 2.45 MWh.
Thanks to the presence of these accumulators and a photovoltaic system, the station needs a power supply line with a "limited range", favoring the spread of these infrastructures for recharging. Specifically, the Audi hub in Nuremberg is powered by renewable energy through a 200 kW connection which interacts with the existing low-flow line. The 200 kW guarantees the constant power supply of the modules, while the solar panels on the roof contribute with an additional 30 kW.
Features that allow the daily recharging of about 80 cars without reaching the storage limits. Inside the station, we will find six columns with power up to 320 kW. Customers who refuel at the Audi charging hub and have signed up to thee-Tron Charging Service will pay € 0.31 per kWh. Via the myAudi app, customers of the four rings can easily book one of the charging stations.
Thank you to the Plug & Charge service supported by the Audi e-Tron and Audi e-Tron Sportback models, in the 55 Quattro and S configurations (only for cars produced from 1 December 2021), recharging will start automatically without the need to use cards or apps. While charging, customers can relax in the lounge area on the top floor of the Audi hub.
Audi also provides mobility services at this station, such as the exchange of batteries for e-bikes and the rental of electric scooters. The lounge area of ​​approximately 200 square meters, will allow people to relax or work while the car is refueling. The house of the 4 rings makes it known that, however, this station is not exclusive to its customers. They will also be able to recharge the electric cars of other car manufacturers.