A small revolution of the search interface is coming to the Google Play Store: a filter that allows the user to filter the results by device class – for example, smartphone, TV, or smartwatch. The news was reported in the United States in the past few hours, but we already have direct feedback in Italy; it seems that, as often happens, it was a server-side update. It is not clear how long the novelty has been distributed: the reports have multiplied over the past few days.
Depending on the type of device you choose, the secondary results and suggestions will change radically: for example, if I search for WhatsApp and choose Android TV, on which the app is not available natively, the system will suggest other communication platforms and social networks, Facebook Watch or Google Duo. If I do the same with Netflix, which is on both platforms, the most popular games produced and released by the company will appear on smartphones, while on ATV we find a VPN app to bypass geographical restrictions.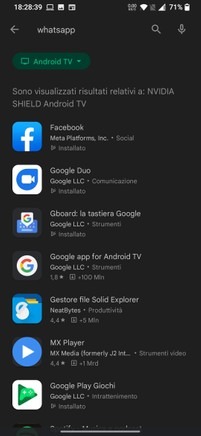 The news does not end there: after the most relevant results, a list of related searches. It is interesting to note that it is not possible to scroll the page down to explore the other results: it is necessary to press the appropriate button. This greater attention than in the past towards alternative form factors in which Android is present has already been observed in recent weeks: since the beginning of the month, when you end up on the page of an app available on multiple devices of a user, it is possible to open a dropdown and start the installation remotely both on your smartwatch and on the TV or set-top box.
Note that both the dropdown on the installation page and the one on the search results page are designed specifically for different device classes: if I have two Android smartphones, or a smartphone and a tablet, the dropdown does not calculate them.