According to a new market report published by well-known insider Ross Young, Samsung has managed to exceed its wildest expectations in the foldable smartphone segment.
The report highlights the nearly 1.5 million foldable smartphones that the South Korean giant produced in December 2021 alone, an increase of 3,435% compared to December 2020, a figure that has helped increase the total production of Samsung foldable devices. to 8.1 million units by 2021, a nearly 300% increase over 2020.
A few weeks ago, the company estimated that foldable smartphone shipments would quadruple in 2021 compared to the previous year.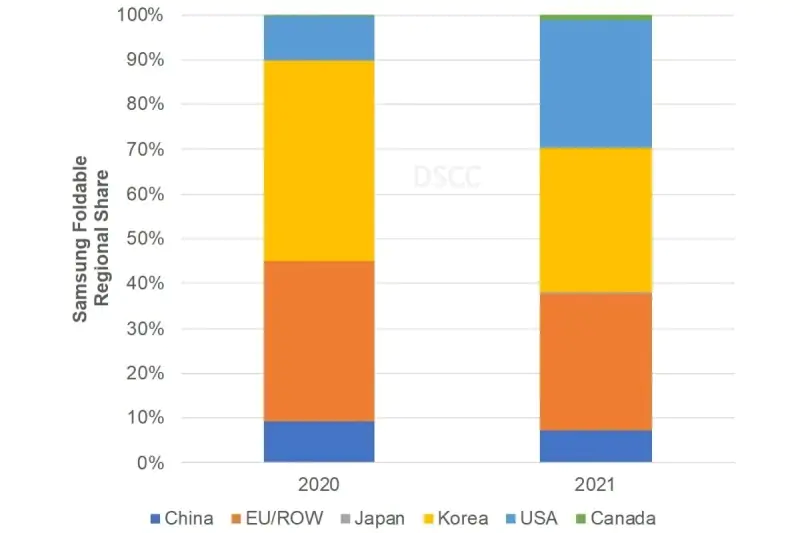 Demand for the Samsung Galaxy Z Fold3 and Z Flip3 may continue
Judging by Young's report, global demand for the Samsung Galaxy Z Fold3 and Z Flip3 is still strong and the trend may continue for some time to come.
Samsung's products in the first quarter of 2022 are expected to reach 1.5 million units after having increased by more than 500% compared to the same period in 2021, with demand likely to suffer a physiological decline during the second quarter.
Unsurprisingly, the Samsung Galaxy Z Flip3 remains the most popular foldable smartphone in the world, accounting for 67% of the 1.5 million foldable devices produced in December, before the potential jump to 70% between January and March.
In geographic terms, the demand in Korea is higher than in both Europe and the US, although the popularity of Galaxy Fold and Flip devices in the US has grown significantly since 2020 and may continue this year as well.
Read also: Best folding smartphones: the ranking of the month