In this period, the attention of the community of Samsung fans focuses its eyes on the Galaxy S22 series, now close to the presentation. The Korean giant, however, has not only a new series of smartphones in-store for 2022 but also tablets. Thanks to the fact that in 2021 Samsung has released only one model of this type of device on the market, or the Galaxy Tab S7 FE, the release of three models of the new Galaxy Tab S8 series is expected for the current year. . It seems now that Samsung may have accidentally shown a first image of the next Galaxy Tab S8 Ultra in a Bixby Voice support page.
An alleged leak image of the Galaxy Tab S8 Ultra has appeared on the Bixby Voice support page
The image you see above comes from the Bixby Voice support page, more precisely from the section Voice wake-up on multiple devices. Is it safe to assume that this is the next Galaxy Tab S8 Ultra? The tablet you see in the background in the image presents a notch on the display, a feature already leaked some time ago, as far as we know it is currently the only Samsung home device with this feature.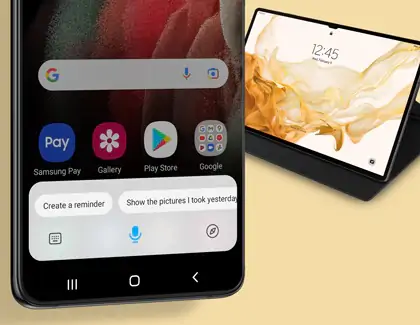 Still observing the image, we can see how the tablet is housed in a case/support, there are currently no indications on this accessory but it could be, as in the past, a cover with an attached keyboard (usually sold separately from the device).
The information we have at the moment about the Galaxy Tab S8 Ultra is not much, it is expected that it can be equipped with the Snapdragon 8 Gen 1 and have up to a maximum of 16 GB of RAM and 512 GB of internal memory. It could have an 11,200 mAh battery, a photographic compartment consisting of a 12 MP rear sensor, and two cameras placed in the 12 MP notch each. It is almost obvious that it will arrive on the market with One UI 4.1 and Android 12.
There is currently no information about the timing of the presentation and launch, but it cannot be ruled out that Samsung may do so at the same time as the presentation of the S22 series.
You may also be interested in the best android tablets of January 2022