Samsung kicked off two promotions concerning the purchase of the S Series soundbar And Q Series (here is the first news on the 2022 range). The "Sound, your design element" initiative is valid until February 28th and allows you to obtain a refund with a value between 50 and 100 euros. The products valid for the promotion and related refunds are as follows:
HW-S50A / ZF: refund of 50 euros
HW-S60A / ZF And HW-S61A / ZF: refund of 100 euros
To receive a refund, you must register your purchase on the Samsung site by 14 March 2022. The points of sale participating in the initiative are all those displaying the related advertising material and the online shops listed in the regulation in Annex A (the regulation is available at this address). The promotion cannot be combined with other initiatives (combined sales and/or prize events) promoted on the same products promoted by Samsung Electronics Italia.
The second initiative promoted by Samsung, valid until February 18, instead takes the name of "Extraordinary alone, perfect together" and has as its object the combined purchase of a Neo QLED TV and Q Series soundbar. Below is the list of soundbars and their refunds: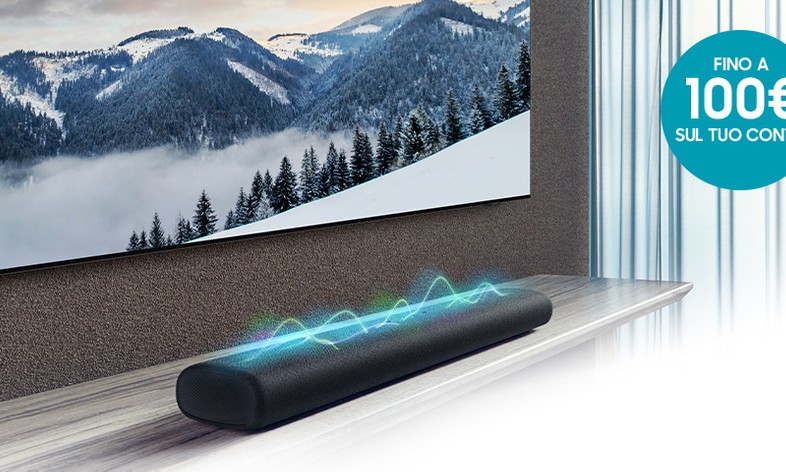 HW-Q600A / ZF: refund of 50 euros
HW-Q700A / ZF: refund of 100 euros
HW-Q800A / ZF: refund of 150 euros
HW-Q900A / ZF And HW-Q950A / ZF: refund of 200 euros
To obtain a refund, a Neo QLED must be combined in the same deed of purchase (only one receipt):
QE85QN900ATXZT
QE85QN800ATXZT
QE75QN900ATXZT
QE75QN800ATXZT
QE65QN900ATXZT
QE65QN800ATXZT
QE55QN700ATXZT
QE85QN90AATXZT
QE75QN95AATXZT
QE75QN90AATXZT
QE75QN85AATXZT
QE65QN95AATXZT
QE65QN90AATXZT
QE65QN85AATXZT
QE55QN95AATXZT
QE55QN90AATXZT
QE55QN85AATXZT
QE50QN90AATXZT
Also in this case the purchase must be registered by 14 March 2022. The list of online stores participating in the initiative is reported in the regulation in Annex A, while for points of sale with physical headquarters, the display of advertising material is always valid.