We continue to discover the new features that the developer team at Whatsapp has intending to make this multi-platform instant messaging service richer and more enjoyable to use.
Well, among the innovations that could soon arrive for the users of this service there is also the one designed to make company searches easier that are in your vicinity and this through filters and a special interface.
Here's what the new feature should look like:
As shown by this screenshot, when you search within WhatsApp, users see a new section called "Businesses Nearby" and which contains several filters (such as restaurants, clothing, etc.) which, once selected, show a list of possible businesses that are nearby and that belong to that particular category.
That functionality is still under development in the version of WhatsApp dedicated to Android devices but should also be implemented in the one for iOS. At the moment, however, there is no information on when it could be made available to beta users or on how long they will have to wait before seeing it implemented in a stable release of the messaging application.
How to download beta versions of WhatsApp
If you want to try the various versions of WhatsApp Beta for devices based on Google's mobile OS, you can do so through the Google Play Store, by subscribing to the beta testing channel .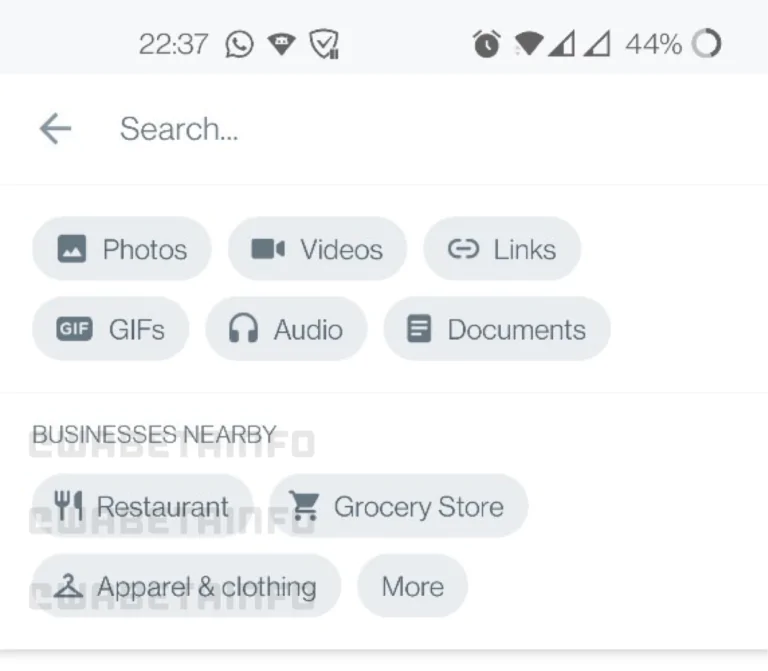 Those who have not managed to sit up for the beta program but would like to try the same preview of the various versions of this popular instant messaging app can do so by manually installing the related APK files, which can be downloaded from APK Mirror.
You may also be interested in our WhatsApp guides