The interest in tablets – not just Android – has returned to flourish in times of pandemic and now the expectation is growing for the new flagship models of Samsung, the already talked about Samsung Galaxy Tab S8 series that will debut in all probability during 2022.
The South Korean manufacturer, in fact, would have postponed the launch of the new tablets to focus more on the next flagships of the Galaxy S22 series. In addition to this, users interested in getting their hands on the more premium Samsung Galaxy Tab S8 Ultra will do well to get ready and take advantage of the earliest opportunity, because it may be a product for the few.
Waiting to understand when the new Samsung tablets will actually be officially presented and from what date they can actually be purchased, the usual Evleaks (aka Evan Blass) posted a tweet that contains three images depicting all three models in the range.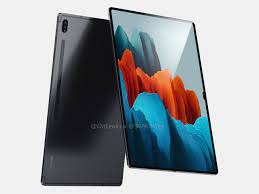 Looking at the images one cannot fail to immediately notice a marked similarity between what they should be Samsung Galaxy Tab S8 And Samsung Galaxy Tab S8 Plus: both have a front camera positioned on the long side, clearly designed for use with the tablet in landscape mode; neither has extremely thin bezels, but on a tablet, it's probably even more comfortable that way. Samsung Galaxy Tab S8 Ultra is immediately distinguishable from the other two because, as we had anticipated in recent days, it has a notch for the front camera and thinner frames.
From a technical point of view, there are still no certainties, but it seems that all three models could come in two variants, one with Exynos 2200 SoC and one with the brand new Qualcomm Snapdragon 8 Gen 1. As usually happens with Samsung's premium smartphones, too in this case the two variants should be destined for different markets.