The first renders of the Samsung Galaxy S22 created from the manufacturer's official press material have just leaked and depict the Samsung Galaxy S22 + and Galaxy S22 Ultra.
The South Korean giant may also have begun to anticipate the Exynos 2200 chip that will power its next series of flagship smartphones in certain regions.
Here's what Samsung Galaxy S22 + and Galaxy S22 Ultra might look like
The leaked renders offer us a look at the back of the Samsung Galaxy S22 + and Galaxy S22 Ultra. In contrast to previously surfaced renders based on the case specs, the following image comes from the official press material Samsung is preparing for its February presentation.
Judging from the image the two devices look quite elegant in design, but the Samsung Galaxy S22 + one looks more familiar, as it is inspired by the Samsung Galaxy S21 +.
The render also offers a first look at the Rose Gold color for the Galaxy S22 Ultra which appears to extend to the rear panel, bezel, and rings of the cameras. Based on the leaked poster, colleagues from LetsGoDigital have created renderings that show the entire device in the new color, where you can also see the compartment for storing the S Pen.
Samsung seems to anticipate Galaxy S22 in the new Exynos video
Samsung has released a short promotional video whose plot revolves around a guy who sells his game console for a good cause and is rewarded with a smartphone capable of running console-level games.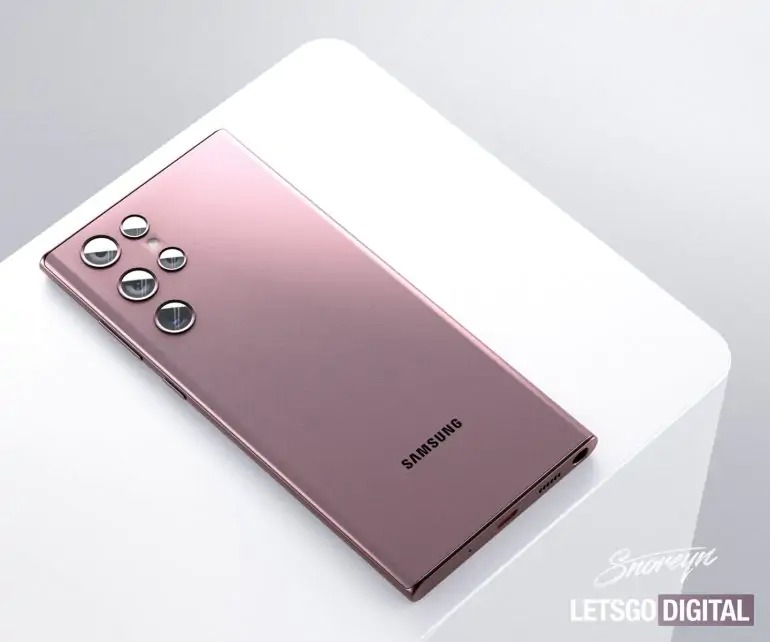 Eventually, an Exynos 5G chipset appears and although the video does not explicitly mention the Exynos 2200, it is likely that the company is referring to the latter and thus the upcoming Samsung Galaxy S22 range.