Download the offline maps in Google Maps not only is it convenient when you do not have an Internet connection – for example during a business trip abroad in which you do not have the possibility to buy a SIM and therefore take advantage of a data plan -, but it also guarantees you the possibility to visit an area of ​​your country where you know you may have connectivity problems.
Obviously, the ability to download maps offline does not allow you to take advantage of some services and features that require an active Internet connection: you do not have access to real-time traffic information, transport by public transport and / or on foot, but however you can take advantage of the navigation service and also of the internal search.
Disclaimer: this guide was made with a Google Pixel 6 updated to Android 12. Some items and / or panels may be different from your version of Android or from your iPhone.
How to download offline maps with Google Maps
First of all, we recommend that you check the application update via the Play Store (link) or the App Store (link): in this way you can be sure that the application is updated with the latest features developed by Google.
Once that's done, follow these steps to the letter to start downloading offline maps:
Start Google Maps on your device and stop on the icon of your Google profile at the top right
Select the item "Offline Maps"
Select the "SELECT YOUR MOTHER" item at the top

In the blue box on the new screen, locate the area of ​​the place you want to save offline
Use pinch in and pinch out to increase or decrease the size of the area you want to save

Stop on the item "Download" at the bottom right
At this point the portion of the map that you have highlighted begins to be downloaded in the background and you can manage it immediately by tapping on the three vertical dots to rename it, delete it or view it.
How to keep offline maps up to date
By default Google Maps saves the maps in offline mode for 1 year, but from time to time it is good to download the updated version of a place (especially if a city) to reach it without running into blocked roads or changes of direction:
Start Google Maps on your device and stop on the icon of your Google profile at the top right
Select the item "Offline Maps"
Enter the settings panel via the gear icon in the top right corner
Activate the items "Automatic update of offline maps" and "Automatic download of recommended maps"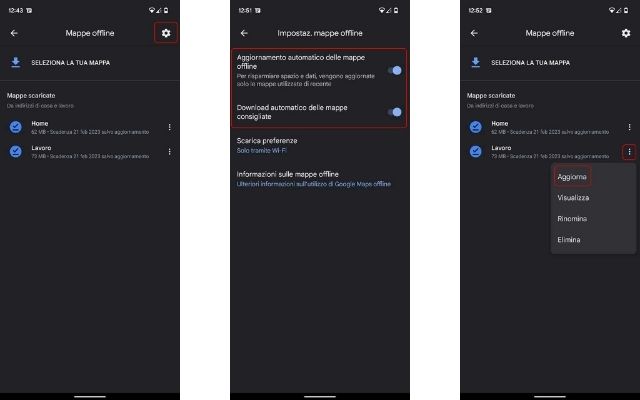 If desired, it is also possible to manually update an offline map by simply selecting the "Update" item from the menu that can be reached with the three vertical dots.