In recent years, there has been no lack of news in the world of gaming but there is one that has rewritten how we think about the relationship between performance and graphic rendering, it is technology. DLSS from NVIDIA. Let's face it, if you are not playing eSports titles, we all want to play at maximum detail with active RTX at high resolution and maybe even with a good frame rate.
Few video cards can afford such a thing, the GeForce RTX 3080 and GeForce RTX 3090 certainly succeed but they too, to overcome the limits of 4K resolution and perhaps go towards 8K gaming, need the help of the DLSS. If on a custom PC the DLSS is used to achieve your preferences in terms of visual rendering, on a notebook that has less power available, the DLSS is a must-have.
What is DLSS and how it works
Before starting with the concept of DLSS it is necessary to underline why the need for DLSS was born. Many gamers around the world have raised their expectations for the next-gen titles by a lot, they want to play them at very high resolutions such as WQHD or 4K and they want to do it with maximum details and in particular with active Ray tracing.
From a technical point of view, Ray tracing is a technique that calculates the path made by light following the rays and the interaction with surfaces trying to replicate exactly what happens in the real world when a ray of light travels its way and is interrupted by an object. The material that hinders the beam will change the reaction accordingly, some materials reflect the light, others cause it to lose its intensity, others incorporate it, and so on.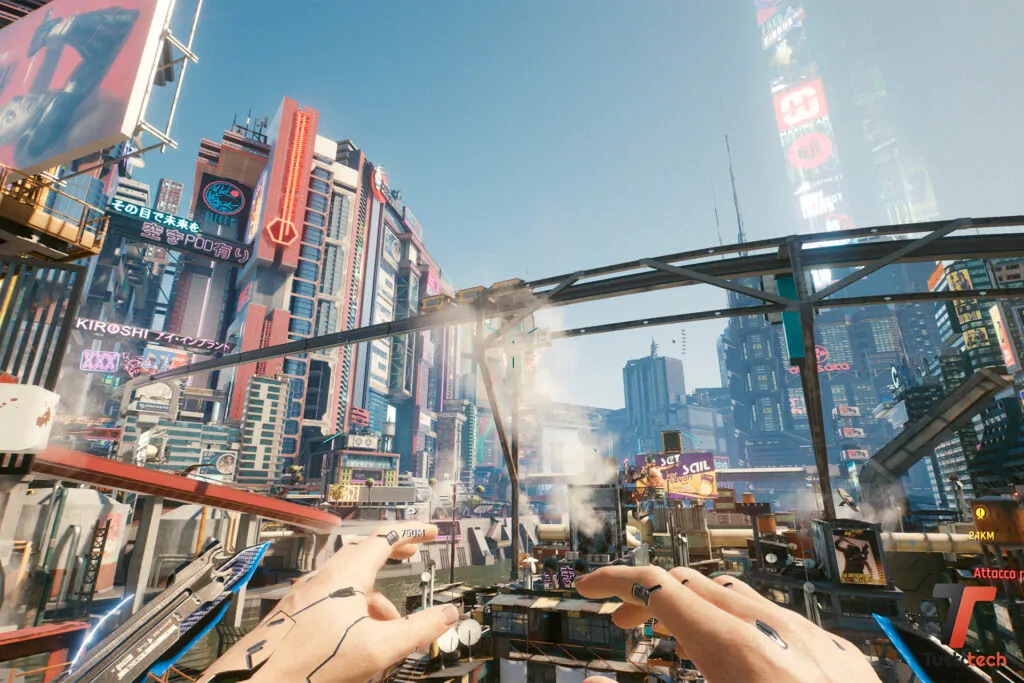 Being able to manage this type of calculation so similar to reality lays the foundations for photorealism and a level of simulation of reality that is decidedly more immersive than other rendering rituals such as the classic one of rasterization. Ray tracing, strictly speaking, is a decidedly heavy process to process for consumer machines but it is essential to achieve the best gaming experience in terms of graphics and photorealism.
As mentioned, this type of real-time computation is very complex to perform and that is why NVIDIA has developed its GeForce RTX graphics cards with RT Core and Tensor Core. The RTX Cores take care of Ray tracing while the Tensor Cores are dealing with the artificial intelligence needed for DLSS.
Deep Learning Super Sampling (DLSS) is a rendering technique assisted by Artificial Intelligence (AI) capable of significantly improving the frame rate of a title without sacrificing Ray tracing and maximum details. This is a very complicated process, with the second-generation Tensor Cores NVIDIA GeForce RTX notebook graphics cards can run a high-resolution game with maxed details and Ray tracing, considerably increasing the number of FPS available thanks to an AI rendering of a lower resolution.
Summing up, DLSS renders images at lower resolutions and reconstructs them via Artificial Intelligence at a higher resolution. NVIDIA has trained a machine learning system with low-resolution images and movements of game engines, the AI ​​model predicts the movements that the player could make and what frame there should be at that point there.
This lower-resolution rendering process with massive AI support through the Tensor Cores unloads a lot of workload from the GPU's brute power, so you can play at higher resolutions, with maximum details and even the thoughtful Ray. tracing with a very satisfying experience.
DLSS is essential for notebooks – MSI
If on a desktop PC, the DLSS can be used to reach a very high number of fsp in triple-A games or maybe to play them all maxed with RTX active at absurd resolutions, on a notebook the DLSS is much more interesting. Notebooks, for physical and space reasons, must keep temperatures and consumption at bay, they need to make the most of all available resources.
Let's take for example an MSI GE66 Raider, a dream gaming notebook thanks to a refined and improved design from many points of view without losing sight of the balance between hardware, performance, and temperatures. The processor is the 11th generation Intel Core i7-11800H with GeForce RTX 3070 graphics card with RTX and DLSS.
The hardware base is very important and is completed with 32 GB of expandable RAM and 2 TB of expandable SSD, there is also the Cooler Boost Trinity + cooling system with a triple fan and 7 heat pipes to be decidedly incisive to keep a notebook from the performance so high. The display is almost completely borderless, it is a 15.6-inch 240 Hz IPS with QHD resolution.
It is an extremely powerful machine, already able to run all the titles with maximum details and ray tracing but for those who want to take advantage of every single Hz of that QHD panel, it is the case to activate the DLSS to reach more than 240 fps in the eSport titles and reaching the highest possible number of fps in triple-A with active RTX and maximum details at a very high resolution, a QHD on a 15.6 "creates an absurd pixel density.
MSI GE66 Raider Core i7 + GeForce RTX 3070 available at 2799 Euro on Amazon Italy
Among other things, the DLSS offers about 3 modes to better set the AI ​​rendering and receive the best possible visual quality. With the Quality mode, the relationship between graphics and performance will lean more towards the graphics, usually, the Balanced mode is the preferable one for graphics quality and fps generated while the Performance mode is for those looking for the highest number of fps at any cost.
Why you should aim for a GeForce RTX with DLSS
First of all, DLSS opens a new era of gaming with a generation of gamers who will not only rely on the raw power of a graphics card but who will find the best gaming experience thanks to Artificial Intelligence. It is not only a question of a higher number of fps but also of future sealing of the notebook or pc with GeForce RTX with DLSS, Artificial Intelligence is making great strides, and NVIDIA through a simple driver update can make its GeForce RTX ever smarter with Tensor Core and more powerful with RT Core. If you think that the latest version of DLSS, 2.3 has improved graphics rendering even more by eliminating small artifacts, it is easy to think of a bright future for this technology.
Net of driver updates and AI improvements, it should be considered that over time the minimum specifications to run a title in an optimal manner rise more and more and the DLSS is a real ace in the hole to slow down the obsolescence of the components which, even if it is not beautiful, sooner or later arrives for everyone.
The DLSS can be considered the game-changer of these years in the gaming world, NVIDIA with the DLSS has allowed not only Ray tracing to become a new standard to aim for without collapsing the performance in the game but it has also made mobile gaming, that from a notebook, something feasible with any title, with any setting, with Ray tracing and several fps always satisfactory.
Talking about how much DLSS improves performance, now in 2022, is superfluous with more than 100 games of all kinds with DLSS support. The boost varies from title to title but we always talk about a 40% boost up to peaks of 200% performance boost, these are hallucinating numbers. We can already talk about a setting that is legitimate to expect in every title coming in the future, to have the DLSS from that extra security in terms of graphics and performance that a gamer has been looking for for a long time.
Whether it's on a notebook or a PC, NVIDIA's DLSS is a must-have. For the avoidance of doubt and it shouldn't even be stressed, to have DLSS you must necessarily comply with a single minimum requirement, having a GeForce RTX graphics card on both notebooks and PCs. The technology that is changing the world of gaming is exclusive to NVIDIA, only a giant could pull such an exciting rabbit out of a hat.
It may interest you: Why content creators should choose an RTX Notebook with Studio drivers