Just a few days ago we talked to you in a video about how OPPO is, in our humble opinion, the most innovative brand of 2021. The Chinese giant has constantly worked to increase the quality and support of its devices, both with the range Reno than with the Find series.
Today we talk about a new patent filed by OPPO regarding the integration options of a display on the back.
The second screen on OPPO smartphones
The patent, filed by Guangdong Oppo Mobile Telecommunications, dates back to April, the documentation was then published on 23 December 2021 and consequently included in the WIPO (World Intellectual Property Organization) database.
The 31-page document describes three models of OPPO smartphones, all with an additional display on the back, but size and shape change from model to model.
LetsGoDigital colleagues have created renderings based on the information contained in the patent, thanks to these we can get an idea of ​​what OPPO might have in mind.
As you can see from the images above, there are three different configurations, (we would like to clarify that in the patent no mention is made of the number of photographic sensors of the various configurations) in which the alternatives presented to require the second display with different dimensions and shapes.
In all three cases, the implementations could concern both notifications (on smaller displays, perhaps showing only the application icon) as well as the photographic side it would be possible to use the second screen to take selfies using the main photosensors, a bit like it already happens on Xiaomi Mi 11 Ultra.
It cannot be excluded, however, that OPPO may have other functions in mind, perhaps new and unpublished, for its displays on the back.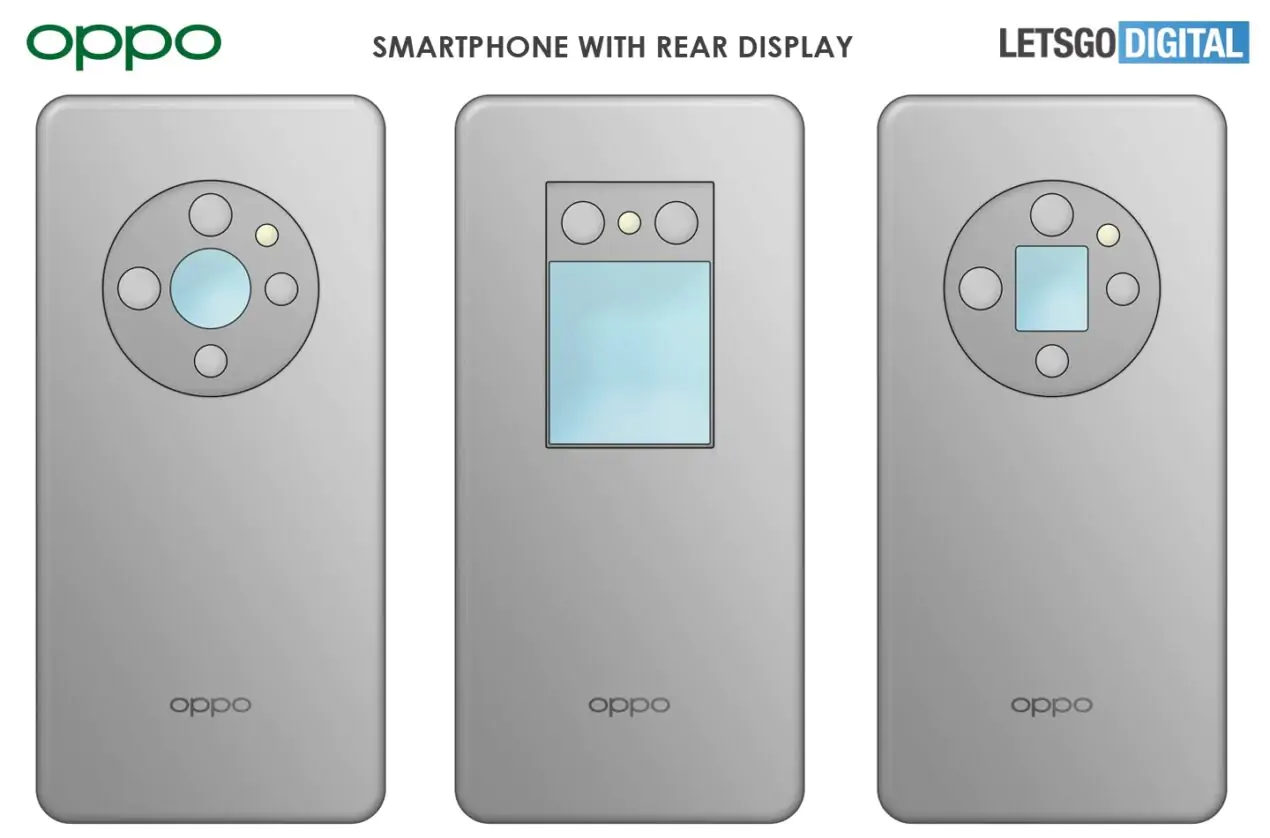 Find X5 could come in place of X4
Through the Chinese social network Weibo, the leaker Digital Chat Station announced that three new models of OPPO Find series smartphones are coming by March 2022. The devices are expected to be powered by Snapdragon 8 Gen 1 except one that should have the SoC Mediatek Density 9000.
But why Find X5? Simply, according to the leaked rumors, the number 4 could be shelved as it has assonance with the word "death". In reality, however, we must remember that OPPO launched Reno 4 last year, so it could simply be goliardic speculations.
Finally, the same leaker reports how the brand is about to launch another leaflet next year, with the same form factor as OPPO Find N and perhaps belonging to the same family. We just have to wait to find out if OPPO Find X4, or Find X5 that is, will have a secondary display mounted in the back.