Motorola is a brand that year by year releases many models, more or less memorable, among which Moto G Stylus is one of the most appreciated internationally, thanks to its stylus (certainly not technologically advanced like those of Samsung but still useful ) and a battery with a more than satisfactory duration, thanks also to a rather lean software. A lot is known about the new model for 2022, at least in the form of rumors, but in the past few hours, several new images have been leaked that show it in a golden and sparkling guise.
The renders should be official and show the smartphone from multiple angles. The most noteworthy features are the triple camera on the back, the 3.5mm headphone jack, and a fingerprint sensor on the right side. The stylus, a distinctive feature of the device, is also put in plain sight. As previously mentioned, much of the hardware has already leaked in the past few weeks in the form of leaks or rumors.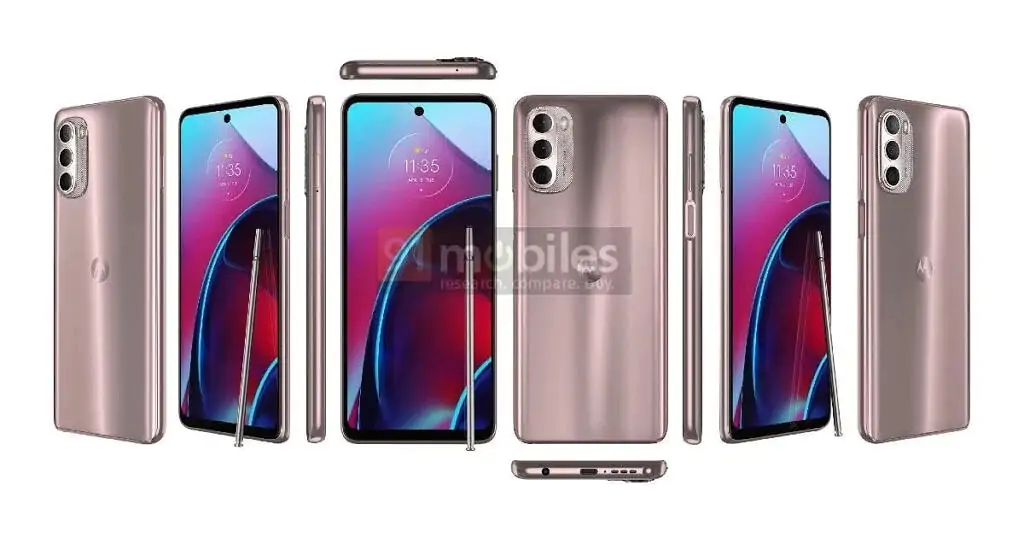 To summarize, the new Moto G Stylus will be equipped with a 6.78-inch display with 2460 x 1080 resolution and a 90 Hz refresh rate. The "engine" will probably be the MediaTek Helio G85 which will manage three rear cameras, 50 MP for the primary one, 8 MP for the wide-angle, and a 2 MP sensor for the depth. As mentioned, this series of smartphones has always stood out for the battery which is confirmed as having a generous capacity of 5000 mAh, which despite having a recharge of only 10 W will certainly give satisfaction to its users.
Dual SIM or NFC shouldn't be supported and will most likely come out with Android 11 instead of the newer 12 which should arrive as a single. major update expected. Motorola will probably make available to its users only one cut of memory from 128 GB (expandable with MicroSD) and 4 or 6 GB of RAM depending on the model and the sales region. It is not known when this smartphone will arrive but in 2021 it was presented in January so it is possible that the launch is not too far away. Motorola should also focus strongly on folding again this year, thanks to the launch of a Razr 3 equipped with Snapdragon 8 Gen 1.