OPPO will be among the leading companies of the upcoming Mobile World Congress 2022 and will present the theme "Shape the Future". In view of the event, the company has unveiled theOPPO Sustainability Report 2021 with the aim of illustrating the results obtained in the long process that aims to make its business and more generally the entire life cycle of the product more sustainable.
Among the initiatives undertaken is the reduction of plastic in packaging, drastically reduced in Europe, and thinking solutions to support the smartphone recycling in a sustainable way. The presentation of the new report is also an opportunity for the company to reiterate that all the sustainability initiatives undertaken follow the brand's mission: "Technology for Mankind, Kindness for the World ". So let's see the details:
OPPO focuses on sustainability: here are the goals achieved in recent years
One of the central points of OPPO's initiatives concerns the packaging. The company has chosen to follow the 3R + 1D sustainable packaging principles. These principles aim to reduce the weight of packaging as much as possible with the use of recycled, recyclable and biodegradable materials. OPPO has managed to significantly reduce the amount of overall plastic used in the packaging of its smartphones compared to 2019. As regards the European market, in fact, the reduction of plastic used in packaging was dated 95%.
It should also be noted that 45% of smartphone packaging was made with recycled fiber with a significant reduction in raw materials. Then there is another element not to be overlooked in the initiatives undertaken by OPPO. The brand has introduced a Battery Health Engine owner with the aim of increase battery life. The system aims to guarantee the possibility for a battery to maintain at least 80% of its original capacity after more than 1600 charge-discharge cycles.
As for the promoting the recycling and reuse of used smartphones, in addition, OPPO has launched a trade-in program that has led (in China) to the recycling of more than 1.2 million smartphones (equal to approximately 216 tons of electronic waste avoided). In Europe, however, the company offers financial support to local recycling centers with the Green Dot program.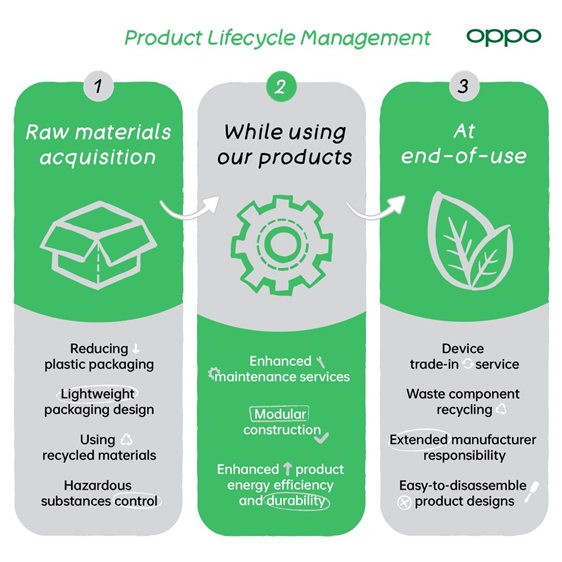 OPPO has also launched initiatives to promote the adoption of sustainable behavior. The company is among the first brands to have joined theEco Rating Labeling Schemea program that aims to evaluate the environmental sustainability performance of smartphones taking into consideration five key areas (durability, resource efficiency, repairability, recyclability and climate efficiency).
As for the development sustainable and thedigital inclusionOPPO developed the function Color Vision Enhancement which allows access to 766 display profiles with customized solutions for users suffering from color blindness or color perception problems. With the program Renovators Emerging Artists ProjectFurthermore, OPPO offers a platform that aims to support the link between art and technology by providing young creatives with the necessary support to run their own business.
The new OPPO Sustainability Report 2021 can be consulted in full online, from the link given in the source: