Pixelmator, one of the most powerful and complete image editors for Mac, after having arrived in the last few years also on the iPad, finally makes its debut on the iPhone.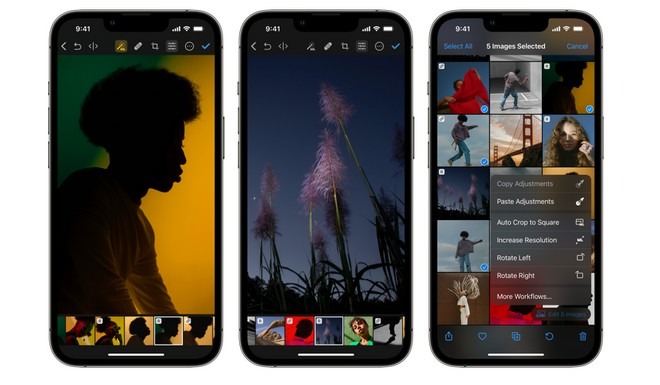 Pixelmator Photo is designed and developed to simplify the most common changes to photos, integrating some of the most important functions of the Mac app which, we recall, was among the first apps to obtain support for M1 processors. Pixelmator Photo offers over 30 color adjustment tools, support for over 600 RAW file formats, including Apple ProRAW, and is also based on iCloud Photos allowing synchronization between devices.
Any adjustments applied to photos in Pixelmator Photo are non-destructive and can be undone at any time. Among the adjustments present, the ones related to curves, color filters, and an automatic repair tool to remove unwanted objects from a photo.
The machine learning features found in Pixelmator for Mac are also available in Pixelmator Photo. These include ML Crop, ML Denoise, and ML Super Resolution. There is also the possibility to set up complex workflows to apply a series of changes to a group of photos, in one go.
This is the changelog of version 2.0 which also adds many other features:
Edit photos using a comprehensive collection of powerful non-destructive color adjustments designed using advanced image processing techniques.
Make your photos stand out with photographer-designed presets inspired by film photography.
Easily remove unwanted objects using an amazing object removal tool.
Automatically enhance your shots using a machine learning algorithm trained on 20 million professional photos.
Increase the resolution of your photos using artificial intelligence.
Crop, straighten and rotate photos with a powerful and easy-to-use crop tool.
Automatically syncs all changes made to the Photos library.
Easily copy and paste changes between photos or batch edit even hundreds of photos at a time.
Open and edit over 600 RAW image formats, including Apple ProRAW.
Remove camera noise and image compression artifacts with the Core ML-based Denoise feature.
Copy the look of any photo onto another using AI-based color matching.
Follow any changes you make in the beautiful real-time histogram
New photo library browser

Browse and open photos faster and easier in the new film-style browser.
Switch between photos and quickly switch to edits with just a few taps.

Denoise

Automatically remove camera noise and image compression artifacts using the machine learning based Denoise function.
Pixelmator Photo for iPhone is available as a free update of the iPad app. If already purchased, you can download it at no additional cost. For new customers, Pixelmator Photo is sold as a one-time purchase for € 7.99 but for a limited time the price is discounted to € 3.99.