Today, January 26, 2022, Realme announced its intention to make smartphones – and the experience – 5G available to everyone through the new strategy "All in 5G", Which will materialize in the launch of two new smartphones equipped with the latest generation connectivity: the already talked about Realme 9 Pro And Realme 9 Pro +.
Before going into the merits of the features that will make these new devices attractive, the Chinese manufacturer – born under the wing of OPPO and still belonging to the BBK Electronics group – has pitted some noteworthy numbers. First of all, Realme was also the smartphone brand in the year just ended fastest growing worldwide.
The following table summarizes the growth percentages of the brand between 2020 and 2021 in some important markets and there is also Italy with an impressive + 610%.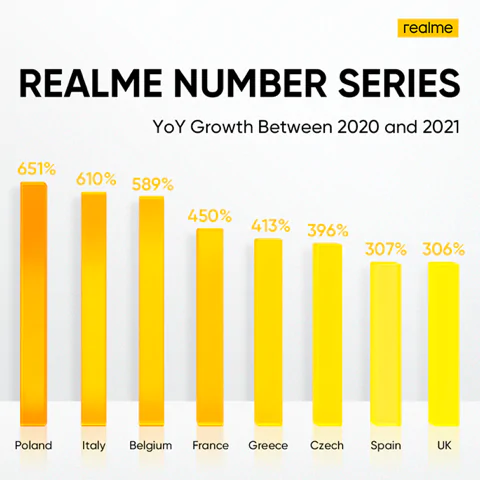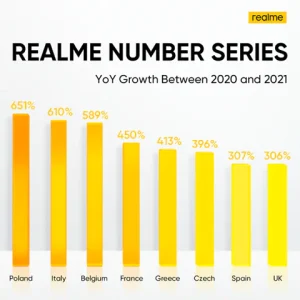 Realme 9 Pro and Pro +: the "All in 5G" strategy
Realme describes the numerical series of its smartphones as products "hero", Underlining the milestone of 40 million shipments reached in 2021.
The next step of growth, which according to the manufacturer will serve to further improve the user experience, will first pass through the introduction of the MediaTek SoC Dimensity 920 5Gwhich Realme will implement for the first time in Europe.
Most of all, Realme 9 Pro And Realme 9 Pro + – who had also been the protagonists of recent advances in the form of images the first and images and technical specifications the second – will be the first representatives of the new "All in 5G" strategy of the Chinese brand.
The manufacturer recalls its commitment to offer 5G smartphones since 2020 and remarks as the latest data from Counterpoint Research crown it as an Android smartphone brand 5G fastest growing in the Q3 2021 globally (with a focus on Europe, India, and China). In the face of a global growth rate of 121% – and however fierce competitors such as OPPO, Vivo, Xiaomi, and Samsung – Realme he put on an amazing report + 831%.
It might also interest you: Review Realme Pad