According to rumors released by a well-known leaker, Tron, the next flagship of Samsung's Galaxy S series expected as the Galaxy S22 Ultra, may actually be marketed as the Galaxy S22 Note. The leaker communicated via his Twitter profile that the S22 Ultra "is dead", and that the next one will be the S22 Note. Is it safe to believe that all this could mark the rebirth of the late Note series?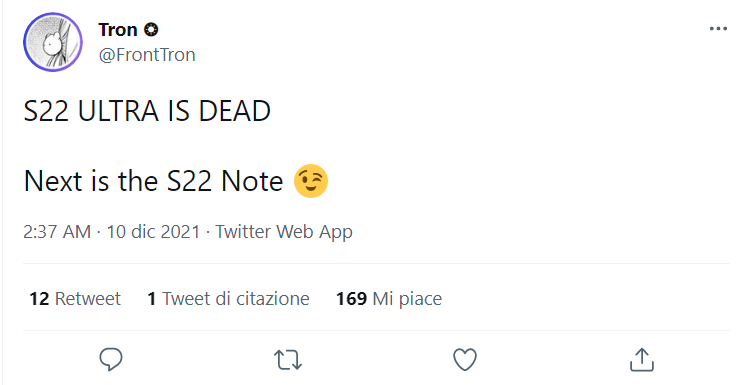 Samsung's Note series could come back to life
It was August 2020 when the Korean giant launched Galaxy Note 20, the latest in its series, on the market. Since then Samsung has preferred to devote itself to folding smartphones as an alternative to the main Galaxy S series, but many fans of the manufacturer's community disagree that the newborn can replace the Note series. In fact, remember that between the two models Galaxy Z Flip and Galaxy Z Fold, the latter actually integrates support for the S Pen.
The smartphones of the Note series have always represented an excellent alternative to the S series, also thanks to more power and small updates as they were launched in the second half of the year. Furthermore, as regards the S Pen, unlike Galaxy S21 Ultra and Galaxy Z Fold 3, in the Note series there was always one dedicated slot which increased portability and efficiency.
The series of folding smartphones of Samsung have achieved their purpose, namely that of increasing the sales of the Korean manufacturer, so it's not all that strange that Samsung may want to win back that slice of users disappointed by the disappearance of the Note series, capitalizing further thanks to them.
It is also interesting to note that, as Samsung has no intention of harming the sales of its foldable products, the new Note series phone would actually be marketed as belonging to the S22 series, rather than as a stand-alone series.
Obviously, the above is currently based only on the classic rumors, therefore there is no certainty regarding the return of the Note series. For the moment, little is known about the upcoming Galaxy S22 Ultra (or Galaxy S22 Note) flagship, it should have a square design with a slot dedicated to the S Pen and a photographic compartment composed of four sensors, respectively 108 megapixel, 10 megapixels, 10 megapixel, and 12 megapixels.
We just have to wait for February 2022, the month in which the next top of the Samsung range should be announced, to have any confirmation of when reported.