It is no mystery that Sony photographic sensors are the most adopted on smartphones, especially top-of-the-range products such as Samsung Galaxy Z Fold 3 and OnePlus 9 Pro. From market analysis, last year Sony photographic sensors have accounted for nearly 50% of total sales, far outstripping the competition from Samsung LSI and OmniVision, at 29% and 10% market share respectively.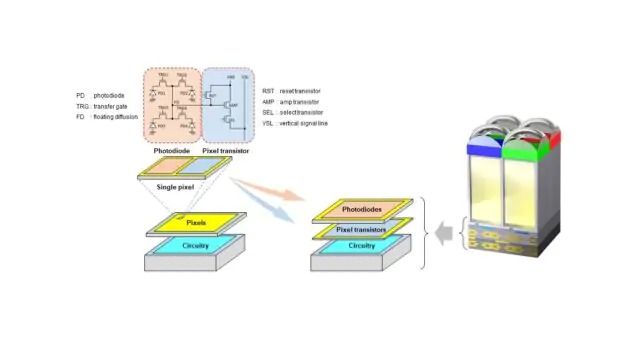 Maintaining a firm grip on the first position in a competitive market is not easy, but Sony knows that the watchword to always keep in mind in the research and development phase is innovation. It is therefore not surprising the announcement of the Japanese company regarding the first CMOS image sensor in layers, the Sony "2-Layer Transistor Pixel". According to Sony, this innovative solution manages to double the signal saturation levels, thus managing to broaden the dynamic range.
But what exactly is a two-layer CMOS sensor? In the words of the company "wherein traditional CMOS image sensors photodiodes and pixel transistors occupy the same space on the substrate, Sony's new technology separates the two elements on different substrates. "
Just take a look at the image to understand better how a two-layer CMOS sensor works: the photodiodes are stacked on the vertical axis, above the pixel transistors, freeing up precious space that can be used to improve the performance of the latter. Using larger transistor amplifiers is indeed possible to reduce digital noise, to the full advantage of photographic performance in non-optimal light conditions, such as in the evening or the dark. Sony also ensures that this technology allows pixels to maintain or improve their performance, even by reducing the size of individual pixels.
Given the small size of the photographic sensors that are equipped on smartphones, apart from rare exceptions such as the Sony Xperia Pro-I, having more space available for the pixels of which the sensor is composed can lead to significant improvements. With this technology, Sony could finally close the gap with the competition and launch 108 megapixels, or even 200 megapixel, smartphone sensors on the market.
No roadmap has been given, so we don't know when sensors featuring Sony's 2-Layer Transistor Pixel technology will be commercially available. Considering the huge market share that Sony holds in the imaging sector, we hope it won't belong.