According to a large patent from Samsung Electronics, the company is developing a smartphone that folds twice via two hinges that divide the display into three parts.
Meanwhile, Lenovo executive Chen Jin has confirmed that a third-generation Motorola Razr smartphone is in the works.
Here's how it could be "Samsung Galaxy Tri-Fold"
The alleged "Samsung Galaxy Tri-Fold" allows you to fold one part of the display backward and the other forward via two different types of hinges.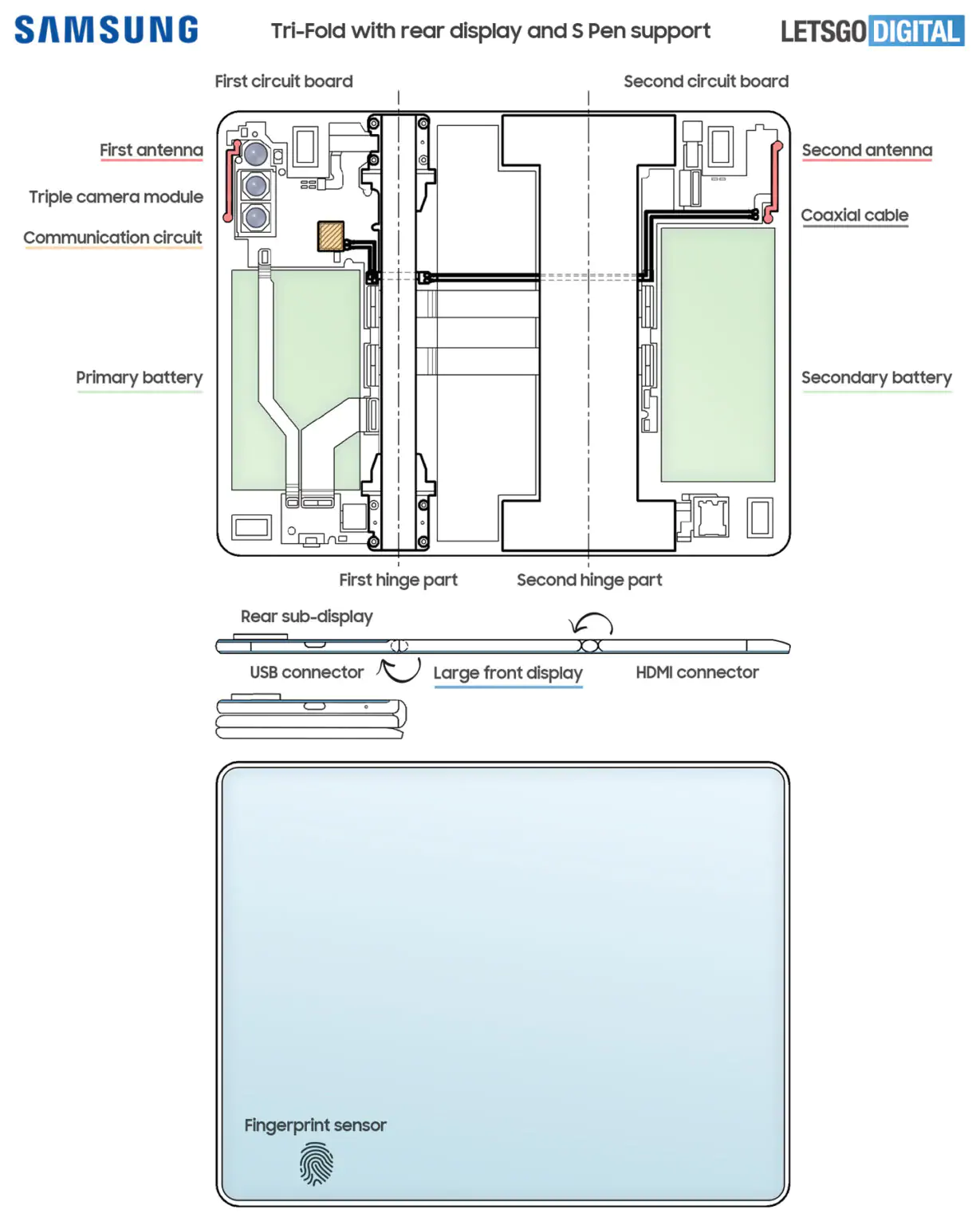 In the open position, the user has a large display the size of a tablet at his disposal, while once folded the device has the same dimensions as a common smartphone, except the thickness and weight, which are considerably higher than the average.
This foldable smartphone prototype can be folded in such a way that the first part of the flexible screen display forms the front screen in the folded position.
Samsung Electronics seems intent on placing a triple camera on the back similar to that of the Samsung Galaxy Z Fold3, as well as a camera positioned below the screen that can be used both when the device is in a folded position and when fully unfolded.
It is also worth noting that the fingerprint scanner is placed under the screen, a novelty for foldable smartphones, plus the device will be compatible with a stylus.
This foldable smartphone prototype from Samsung will also offer numerous connectivity options, with the ability to connect an external keyboard, mouse, and/or microphone, as well as USB-C and HDMI connections, as well as an audio connector and microSD card slot.
The prototype is equipped with multiple antennas and is powered by two batteries, like the current devices in the Samsung Galaxy Z family. We may find out more about this versatile smartphone/tablet in 2022 or 2023.
A new foldable Motorola Razr smartphone is coming
Motorola's new flip clamshell smartphone will perform better and offer an optimized interface and improved appearance.
It also looks like the next Motorola Razr will be launched first in China, however it will arrive in a rather competitive landscape including devices such as Samsung Galaxy Z Flip3 and the recently announced Huawei P50 Pocket.
Read also: Best folding smartphones: the ranking of the month