Not for everyone Christmas Eve is a day of leisure and preparation for the holidays. It is also the time suited to express their job dissatisfactions, taking advantage of the (frenetic) shopping period to attract media attention with more emphasis. That's what's happening to a group of employees of some Apple Stores in the United States, gathered behind the initials Apple Together and that with the account @AppleLaborers urged dissatisfied workers to protest and strike.
Between closures due to the pandemic e pegs outside the shops, today will not be an easy day for American consumers to shop for Apple. And it will not be an easy day even more for those who find themselves outside the Stores to protest, asking for better working treatment. It is read: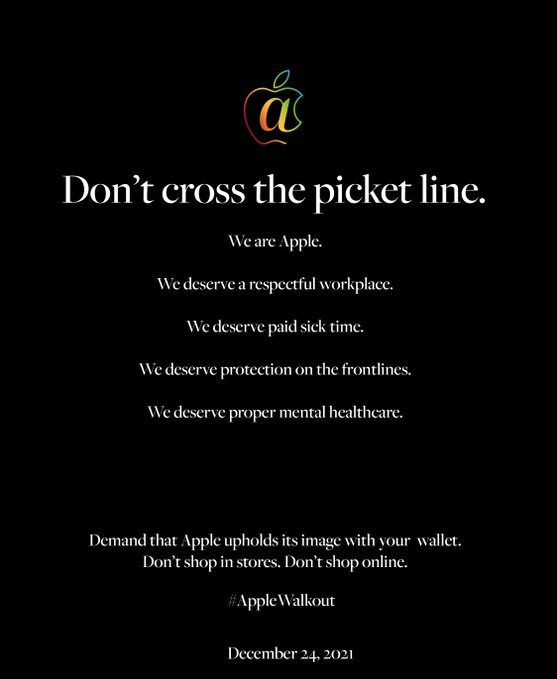 Don't cross the picket line. We are Apple. We deserve a respectful workplace. We deserve a paid period of sickness. We deserve frontline protection. We deserve adequate mental health care.
Apple prides itself on its commitment to diversity, equity and an environment where everyone can do their best. But Apple has failed to achieve this for so many of our current and former teammates, so we've created space to share these stories with #AppleToo. […] It's time to think fairly at Apple – together.
The demand for better working conditions is an inviolable right, in any corner of the world. And those who protest want to say this loudly not only to the company but also to the entire public opinion. We'll see if Americans give up shopping today in the Apple Stores, either for closures or also in respect of those who strike. There is always a fully functional website, and here the decision to go online to buy the latest gifts is at the discretion of each consumer. What would you do?