TicWatch Pro 3 Ultra GPS Review – My passion for watches has roots far back in time, since the time of the first digital watches and chronographs that raged in the 80s and has naturally reached the current smartwatches, with which I have always had a love/hate relationship.
It was therefore with caution, but also with a certain optimism, that I decided to try TicWatch Pro 3 Ultra GPS, the latest addition to the Mobvoi family after I had recently abandoned solutions based on Wear OS. I confess I was attracted to the FSTN screen which promised much better autonomy than traditional AMOLEDs and given the need to perform some tests related to the smart home, I accepted Mobvoi's proposal and wore the smartwatch.
I kept it on my wrist for a couple of weeks, used it to track the data of some workouts, and today I'll tell you how it went.
Sporty look
Of TicWatch Pro 3 Ultra GPS I immediately appreciated the sporty look, with the numbered bezel and the two buttons on the right side. Mobvoi used stainless steel and high-strength nylon, reinforced with glass fiber for the case of the smartwatch, with the result of containing the weight in just 41 grams. I also liked the strap, made in fluorinated rubber (FKM) which should ensure better wear resistance.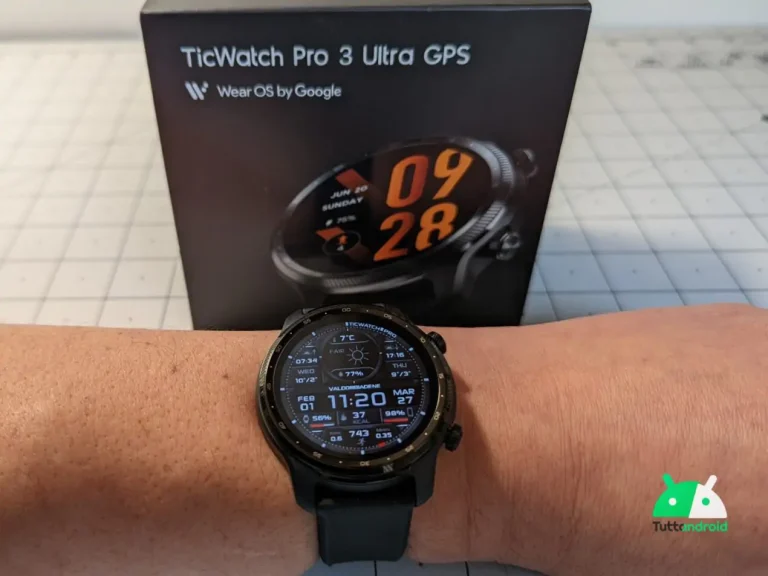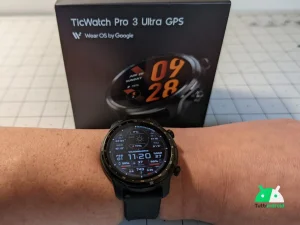 It certainly does not create irritation or redness to the skin, even after prolonged use during sports. In addition to the classic IP68 certification, it is also worth noting the MIL-STD-810G certification which guarantees excellent resistance to wear, sand and dust, and solar radiation. There is also a Gorilla Glass to ensure greater resistance to scratches, to allow the best readability for a long time.
In this regard, it must be said that the Ultra version introduces the colored backlight for the FSTN screen, with the possibility to choose between 18 different colors, to satisfy everyone's tastes. The backlight can be activated by rotating the wrist or by pressing the key if the smartwatch is in power-saving mode.
As with many of the TicWatch models, also in this case Mobvoi has opted for the double screen, one 1.4-inch AMOLED with a resolution of 454 x 454 pixels for maximum readability, and an FSTN LCD to drastically reduce consumption.
Excellent autonomy
I have used numerous smartwatches with Wear OS in the past and their main flaw has always been linked to autonomy, bad for what my needs are. I find it unthinkable to have to recharge my smartphone every day, often several times a day if I decide to keep the mode active always-on and for this reason, I have chosen other models able to guarantee at least 4-5 days of continuous use.
Despite still having Wear OS 2 onboard, e it will be necessary to wait a few more months for Wear OS 3.0 to arrive, this TicWatch Pro 3 Ultra GPS has excellent autonomy, at least when compared to models with the same operating system. The merit is obviously of the FSTN screen, which guarantees low consumption and excellent visibility indirect light, without the need for backlighting except at night.
This results in three days of continuous use, a decidedly encouraging figure if we think about the functions offered by the smartwatch. I got these results with 24/7 heart rate monitoring and hourly blood oxygen level measurement. The energy-saving mode has been programmed to activate at 10.30 pm and deactivate at 7.30 am, to avoid annoying vibrations or switching on at night.
Charging, while not very fast, is normal: it takes about 90 minutes to fully charge, perfect for dining in peace without having distractions. You can still get better results by reducing the AMOLED screen off time (from 15 to 5 seconds), reducing the brightness, or turning off the automatic detection of vital signs, but in my opinion, you lose a lot of useful information.
Smart at the right point
In my opinion, the strength of a smartwatch is the ability to check notifications without having to use the smartphone, to immediately know who sent a message or an email. And the ability to respond from the wrist, even if the keyboard is small and uncomfortable, is not to be overlooked.
The presence of a speaker and microphone allows you to interact naturally with Google Assistant and answer incoming calls, but also to make calls, as long as you are connected to your smartphone. There is no support for cellular connectivity, which would undoubtedly have weighed on autonomy and cost.
The possibility of installing apps on the smartwatch is excellent, to reduce the use of the smartphone in certain situations and to have more direct control over one's activities. There is also support for NFC technology that allows you to pay from the smartwatch after setting up a card on Google Play.
A secure unlock must be set to enable the feature to avoid unwanted payments in case of theft. I have tried to make a few payments in different years and have not encountered any problems, with the transactions going through in the blink of an eye.
Excellent sporting attitudes
The look of TicWatch Pro 3 Ultra GPS betrays its sporting vocation, although it is not a pure sports watch and also from this point of view it does not disappoint expectations. I have used the smartwatch together with my Garmin Forerunner 935 on some outings, both on the bike and in my running shoes, and in both cases, I was very pleased with the accuracy of the data collected.
Very good localization, which can be counted on support for GPS, Beidou, GLONASS, Galileo, and QZSS, even if the initial alignment takes a couple of minutes. The track is not as precise as that of the Garmin but it is still very reliable and does not present particular deviations from reality.
Even the detection of vital parameters and those of running (such as rhythm, cadence, the amplitude of the stride) is precise and the data collected are in line with those coming from my sports watch. At the end of a workout, it is possible to view the data on the smartwatch or smartphone via the Mobvoi application, which allows you to synchronize it with Strava, Google Fit, and Runkeeper, for a more in-depth analysis.
This is not a smartwatch intended for the most demanding sportsmen but for a budding runner or for the Sunday cyclist, who does not want to have to face additional expenses to track their activities, it is a very valid solution. The heart rate measurement is also more than acceptable, although it lacks responsiveness in sudden bursts, which requires the use of a chest heart rate monitor.
Among the many functions offered by TicWatch Pro 3 Ultra GPS, we also find stress measurement (which can only be done manually) and breathing exercises to reduce it quickly. Also, a very comfortable measurement of physical and mental fatigue is carried out automatically every 30 minutes, which only marginally affects the autonomy but which helps you to know your state of health better and to improve well-being.
In conclusion
I was therefore pleasantly surprised by this TicWatch Pro 3 Ultra GPS, both for its performance that always lives up to expectations (no jamming or lag) and for its autonomy, which, even without being extraordinary, is excellent if we evaluate the user experience offered. as a whole.
If you have always kept away from devices with Wear OS this TicWatch will change your mind, and if you are looking for an ideal all-around smartwatch for sports, leisure, and work, this is certainly one of the most valid alternatives.
You can buy Mobvoi TicWatch Pro 3 Ultra GPS on Amazon for around 280 euros using this link. Alternatively, you can buy it at the Mobvoi official store.