Shadowlands, the role-playing publisher, get started on board games with a wargame called War by Sail. A few days ago, the publisher of role-playing games Shadowlands announced, in one of its already customary news videos, which will be released in the coming weeks. And I assure you that there were very interesting things and among them a board game.
---
More about Shadowlands
To put you in context, Shadowlands is an RPG publisher. And he has great guilt, or positively, he is responsible in large part, for my reenlisting in the role a couple of years ago. Shadowlands was born at the beginning of 2019 and has brought a very cool fresh air to role-playing games, betting on native authors, and being an official collaborator of Chaosium for adventures of the call of the Cthulhu. They have brought the Rolflix (shadowy shots) and they have embarked on taking out and betting on old games, revamping them, and new ones. I can assure you that they have cost me a lot of money and have given me quite a few hours of play. Finally, in this presentation, I will say that they have a role-playing Telegram channel, which is a WONDER, and that I can only invite you to meet it.
As I mentioned, Shadowlands presented its news recently and, among them, new adventures for:
The Call of Cthulhu"The singer of Dhol",
Pulp Cthulhu "HiddenCorp" (this one looks very very good),
D & D5 "Shadows over Voirlan" (This one also calls me a lot, being a chivalric setting very close to the knights of King Arthur)
A new role manual "the dee Sanction"(Which will also come home for sure)
Book "technique, tips and tricks to play the role" of the great Sirius Sesenra.
But in addition to this, they presented a board game, a wargame. The game War by Sail by Thomas Jensen. The pre-sale of this game will arrive at the end of December, and stores will probably arrive at the end of March.
---
| | |
| --- | --- |
| Players: | 2 to 8 |
| Duration: | 90 – 180 minutes |
| Hardness: | – |
| Age: | 8+ |
| Author: | Tomas Jensen |
| Editorial: | Ostfront Publishing – Shadowlands |
| Date: | End of March |
| Genre / Mechanics: | Wargame, action points, dice |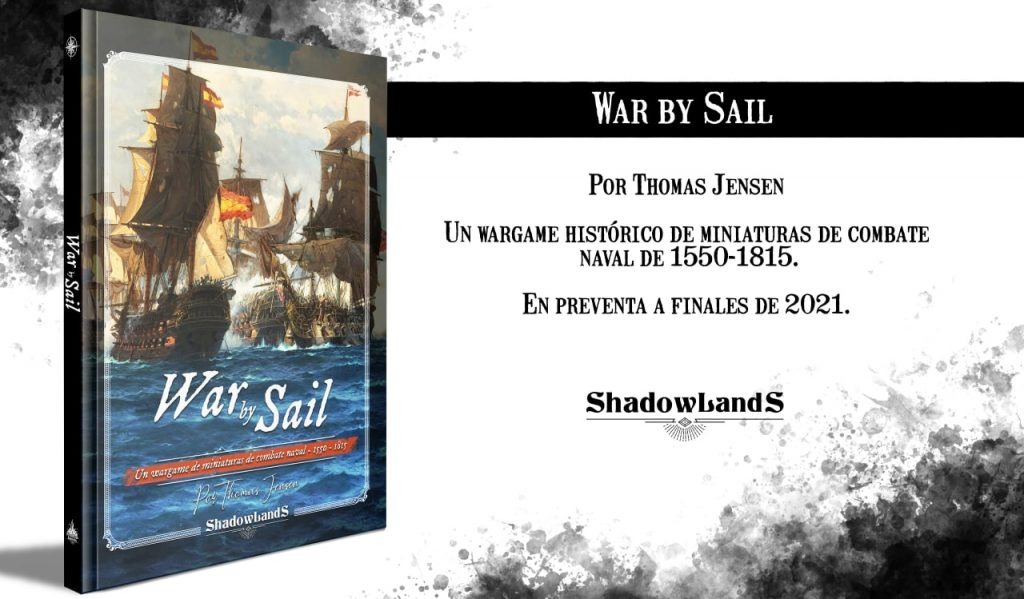 ---
The Shadowlands War by Sailboard game is a game of historical naval battles, where we will control fleets from 3 to 30 ships per side; and we will fight in a score of conflicts that go from 1563 to 1812. We will find a multitude of tables and lists with the information of the ships (size, maneuverability, guns …) and their periods for a total of 1700 ships. The game focuses on the morale of the crew, the tactics of the different historical periods and reflects the changes in naval technology over time.
---
The conflicts
There are several conflicts depicted in War by Sail, the upcoming Shadowlands game:
Generic vessels – 1300-1550
Northern Seven Years War – 1563-1570
Battle of Lepanto – 1571
Spanish Armada – 1588
First Anglo-Dutch War – 1652-1654
Second Anglo-Dutch War – 1665-1667
Third Anglo-Dutch War – 1672-1674
Second Northern War – 1655-1660
Scanian War – 1675-1679
Nine Years' War – 1688-1697
Great Northern War – 1700-1721
War of the Spanish Succession – 1701-1714
War of the Austrian Succession – 1740-1748
Seven Years' War – 1756-1763
American War of Independence – 1775-1783
Russo-Turkish War – 1787-1792
Russo-Swedish War – 1788-1790
Coalition Wars – French Revolutionary Wars – 1792-1802
Napoleonic Wars – 1803-1815
War of 1812-1812-1815
The game has been developed and tested by the parent publisher for 10 months. From the author of the game, Thomas Jensen, we will simply say that he is the author of another 16 wargames
---
Questions to Shadowlands
The entry of Shadowlands in the universe of board game edition, has caught our attention and we have asked them 2 questions that interested us a lot:
What made you take the step to board games? Why have you embarked on board games?
The short answer is by diversification. Actually, since we began to raise the publisher, we had already thought about taking this step. We have been working in the shadows to get this game published since practically the beginning.
For a small company like ours to work, we have to try to touch on many topics, but always within the same leisure sector. Our core business is role-playing games, but we were clear that we had to publish products from other sister hobbies.
In the editorial planning process, we begin by sitting down and thinking about what other hobbies a person who plays role-playing games has. We are players (of all kinds of games, role-playing, table, miniature wargame, etc.) and we have belonged to several clubs in Barcelona. We know hobbyists, so the first thing that comes to mind is board games and specifically wargames, so it's a natural step.
Within wargames, there are many different themes and settings, and ship regulations are not too many translated in our country, so WarbySail was our choice.
We firmly believe that they are permeable hobbies and that they will work with the public, who already know us as RPG publishers. Of course in the other sense, we also hope that it will work and that players exclusively of a wargame or board games will approach role-playing games if they have not tried it yet.
Do you plan to release more board games? Will they be wargames or something else?
Absolutely yes.
We have several wargames that we want to edit. We have contacted its authors or editors but it is not signed yet, so we cannot officially announce anything yet.
With regard to modern board games, we have also considered them many times. We are still working on what would make sense for us, whether to bring licenses from outside of our own production. For now, we would like to make our own production, but we are not developing one yet.