The slow but constant development of WhatsApp continues, a path made up of macro changes added to secondary refinements, but still useful for improving the user experience. After the privacy news, the developers are busy giving group admins a new power: the ability to delete the messages of each member of the group – simple user or another administrator – with the option "Delete for all".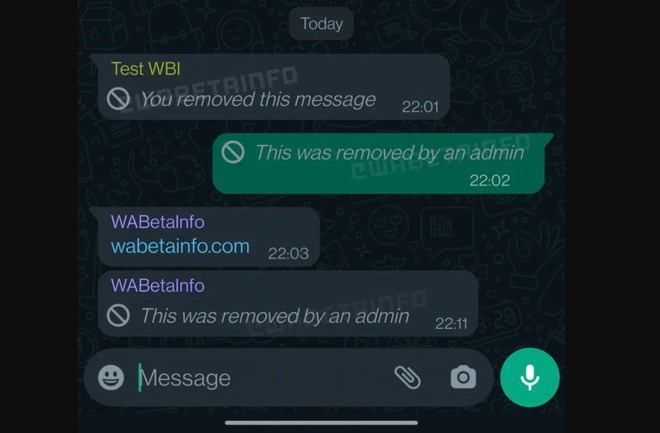 Deleted messages will be replaced by a statement confirming the removal by an administrator. These figures will thus be able to increasingly assume the role of moderators of the conversation, also intervening to obscure inappropriate messages. The novelty we are talking about was spotted in version 2.22.1.1 by colleagues at WaBetaInfo.
As you can see in the screenshot below, the message "This was removed by an admin".
At the moment the administrator removes a message from another group member-only deletes it from the chat visible to the same administrator – therefore only with the "Delete for me" option – but other participants can continue reading it.
However, it is difficult to predict release times, as always happens in the case of WhatsApp functions spotted in one of the beta versions but not yet active. Expect a future update to give more powers of moderation to administrators.