Whatsapp today formalizes news for the management of ephemeral messages, that is, those that automatically disappear after a certain amount of time after sending. The functionality was introduced in the stable version of the popular messaging application in the fall of last year, then the principle was extended to photos and videos that disappear from the chat once opened, but recent betas have suggested work in progress to refine it. further, an activity that takes shape with today's announcement. The aim is simple: to give users the ability to decide if and for how long to keep their messages.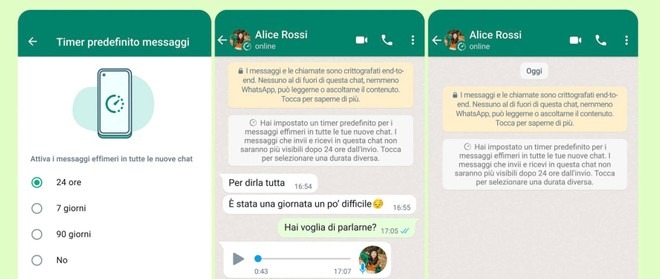 More in detail, the novelties are two:
You can turn on ephemeral messages by default in all new individual chats. By choosing the function, the existing chat settings will not be changed and no chat messages will be deleted. The activation of ephemeral messages will automatically appear as a warning in the new chats to inform the interlocutors of the choice. It should be noted that the function removes both messages received and those sent within the chat. The default also does not apply to group chats where ephemeral messages can still be enabled: in group chats, any participant can activate ephemeral messages. However, administrators can change group settings so that only administrators are allowed to enable this feature
They have been added two other options for the duration of ephemeral messages: to the 7 days (already existing), they are added the 24 hours and 90 days.
HOW DOES IT WORK
The steps to activate ephemeral messages are simple (procedure for Android and iOS).
Open the chat (single or group) of WhatsApp
Tap the contact or group name
Tap Ephemeral Messages, if prompted tap continue
Select 24 hours, 7 days, or 90 days
As for the activation of the ephemeral messages by default in individual chats just follow this path:
Select WhatsApp "Settings"
Select "Account"> "Privacy"> "Default message timer"> choose the duration
The function can be deactivated via the same paths. Keep in mind that ephemeral messages can always be captured via screenshots during the period in which they remain visible in chat, so the suggestion is to always and only share them with trusted people. To take advantage of the new options, you will need to check that you have updated the app to the latest version available (it may take some time for the distribution to start).
For anything not expressly indicated, please refer to the website and the official FAQ.