All owners of Android smartphones have always had more than one doubt about the notebook to combine with their smartphone. Although Chromebooks are integrated with the Google suite, they are not able to satisfy a power user who perhaps uses a Samsung Galaxy S21 Ultra or a Google Pixel 6 Pro. Some Macbooks for ethical choices are discarded a priori by many users and in the end, the choice falls on Windows.
A sensible choice as the versatility of Windows and Android becomes more and more clear, a practical example is the arrival of Android Apps on Windows 11 but there are Windows notebooks that are more suitable than others to be combined with an Android smartphone, are NVIDIA's gaming notebooks and creators with GeForce RTX.
The hardware/software power of RTX notebooks
Those who use Android know exactly the hardware power of their device, they are always looking for the smartphone with the most powerful computing power in circulation, with as many photographic modules as possible to make computational photography and shoot very heavy 8K videos. All without forgetting the resolution of the display, the type of panel, and in recent years also the power of the GPU and the refresh rate of the display for a new frontier of mobile gaming.
Here you are, from a conceptual point of view, notebooks with GeForce RTX are quite attractive for those who use Android. They are notebooks with very powerful graphics cards such as the GeForce RTX 3050, 3050 Ti, 3060, and also the GeForce RTX 3070 and RTX 3080. These are graphics cards with new Ampere architecture, the second generation RT Core and the third generation Tensor Core that allow notebooks with dedicated GeForce RTX graphics to access all the best technologies and implementations for the world of gaming, productivity, and content creation.
It is enough to mention the Ray tracing that many are also waiting for games on smartphones but which realistically will not arrive soon, it is on notebooks and PCs that you can play with RTX titles with satisfaction. To be fair, there is also GeForce NOW RTX 3080 which gives this possibility to Android smartphones but we'll talk about it later.
Ray Tracing simulates the physical behavior of light and other elements to make everything much more real and concrete. Within a scene, with active RTX it is possible to come across lights and shadows that respond to real physical behavior, reflections in real-time, and a whole series of conditions that faithfully reflect the physics of our world.
To make Ray Tracing more and more accessible due to the high computing power required, NVIDIA has developed DLSS 2.0. Deep Learning Super Sampling is a rendering technique assisted by Artificial Intelligence (AI) capable of significantly improving the frame rate of a title without sacrificing Ray Tracing and maximum details. The final result depends on the titles but generally speaking of at least a 40% fps boost up to 200%.
In the field of productivity and content creation, you can benefit from the power of a notebook with an NVIDIA GeForce RTX graphics card thanks to the Studio drivers that allow many content creation applications to be accelerated by the GPU. We are talking about professional programs such as Photoshop, Premiere that use CUDA rendering but also real-time 3D modeling with Blender and AI acceleration processes like in DaVinci Resolve. How not to mention the whole new branch of streamers with the NVIDIA Broadcast suite to remove noise and echo from the audio track, insert virtual backgrounds, and much more in your live shows.
The configurations of the RTX – MSI notebooks
An Android user is already quite used to the concept of configuration, after all, in the smartphone market we have seen the proliferation of Pro, Ultra, Plus versions, more cameras, fewer cameras, RAM cuts, and different memories and high-end socs, medium and low. Precisely for this reason, it will be even more natural for him to evaluate among the many proposals of notebooks with GeForce RTX.
Let's take as an example one of the most active brands on the RTX notebook market in recent years, MSI. MSI offers in its range RTX notebooks for professionals, creatives, and of course, gamers. Net of the configuration between creatives and gamers, each notebook can be found on the market with different configurations regarding the display, the processor, the RAM, and SSD combo, and also the desired GeForce RTX graphics card. Two examples with MSI GS66 Stealth and MSI Creator Z16.
MSI GS66 Stealth is a true gaming notebook but not in its design. Aesthetically it is very calm, subtle, and sober. While not massive, it doesn't have any kind of performance limitations with the 11th Generation Intel Core i9 processor and NVIDIA's GeForce RTX 3080 graphics card, 16 GB RAM, and 2TB GB SSD. The display is a 15.6 ″ with QHD resolution and refreshes rate at 240 Hz (small frames) also the audio section is well-finished thanks to the presence of Hi-Res audio. The cooling system to keep this little beast at bay is the Cooler Boost Trinity + with 3 fans and 7 heat pipes.
MSI GS66 Stealth is available at 3799 Euro on Amazon Italy
Contrary to the Creator Z16 from MSI it is an elegant but very powerful notebook. Under the shell hides a Core i9 11900H with GeForce RTX 3060 with Studio driver at full power able not only to help all creators to express themselves at their best but also to make themselves pass more than a whim when they want to distract from working with RTX and DLSS in the titles played on a huge 16 ″ QHD + and 120 Hz display. Among other things, the display is available in both versions with touch support and without.
MSI Creator Z16 Core i9 touchscreen available at 3099 Euros on Amazon Italy
They are two very interesting machines that, however, aim at completely different users, following a bit the desire for customization that so many appeals to those who use Android smartphones where each user tries to find the product that best corresponds to his tastes and most importantly, to his own. hardware power requirements.
RTX notebooks perfect for Android: some examples
After seeing that notebooks with GeForce RTX are already philosophically in line with the consumer using Android, both for their hardware refinement and the possibilities of customization and configurations, it is worthwhile to make some practical examples. Let's start with gaming, the real one, the one on PC and notebook with triple-A titles with RTX On and maximum details.
Aim for a gaming notebook like the MSI GS66 Stealth with GeForce RTX 3080 that allows you to play titles like Cyberpunk 2077 at a high frame rate in QHD on the 240Hz panel with maximum details and RTX set to insane, it is absolutely the best for playing on the go. Not only thanks to the presence of the GeForce RTX, but you will also have access to DLSS 2.0 technology. Deep Learning Super Sampling is a rendering technique assisted by Artificial Intelligence (AI) capable of significantly improving the frame rate of a title without sacrificing Ray tracing and maximum details.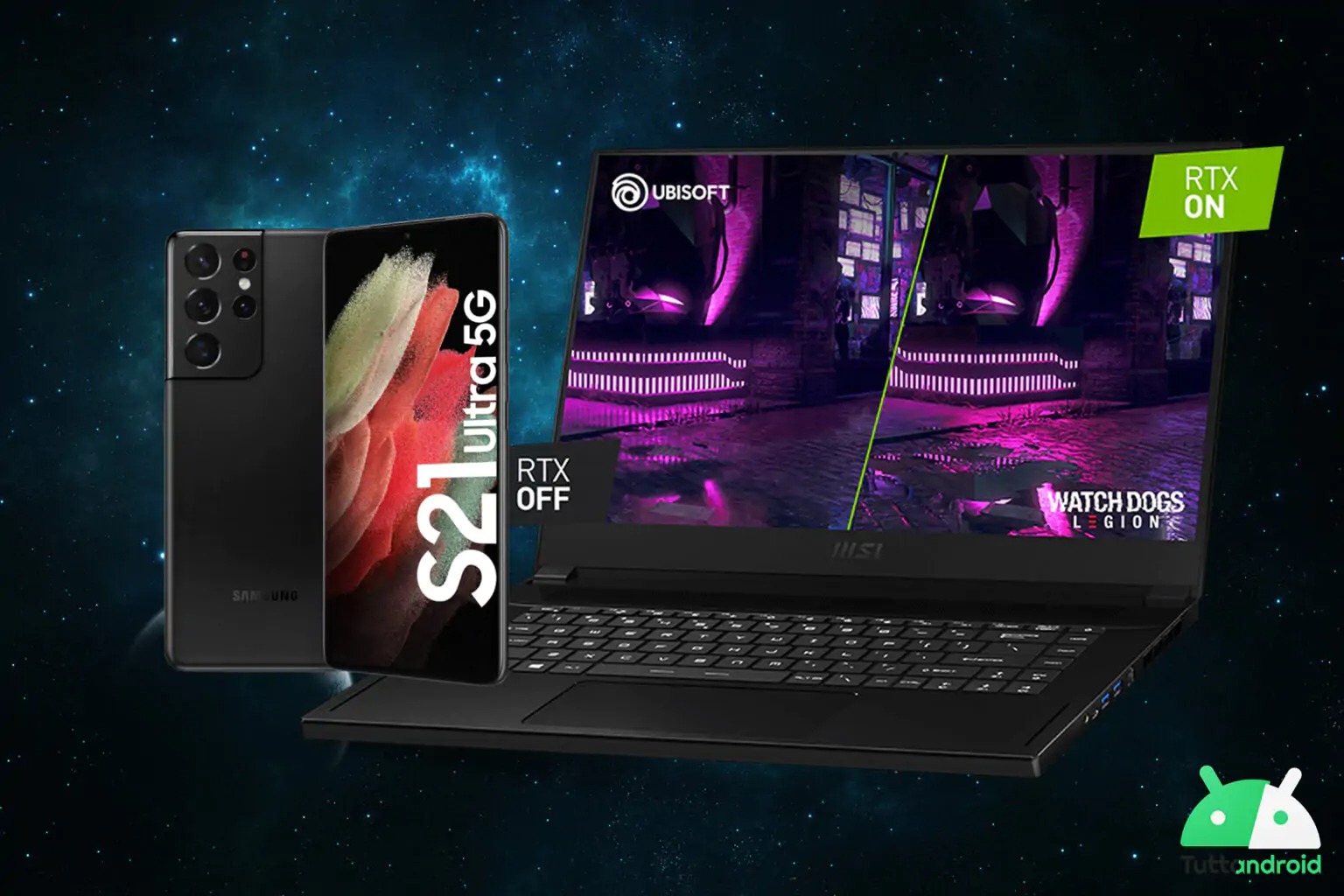 Here is starting a gaming session on your RTX gaming notebook and then moving on to play Cyberpunk 2077 on your smartphone exactly where you left off on the notebook, for example on a Samsung Galaxy S21 Ultra or a Google Pixel 6 Pro through GeForce NOW RTX 3080 (read our GeForce NOW RTX 3080 test here) that allows you to dynamically switch between notebooks and smartphones without losing save data and above all without compromising when you switch to play on the smartphone which, of course, does not have the power and technology necessary to run Cyberpunk 2077 at maximum with RTX active.
NVIDIA has created a kind of ecosystem that allows those who want to play next-gen titles on smartphones just as if they were on a notebook and if you have the Android smartphone and notebook combo with GeForce RTX, the process is user friendly.
Leaving aside all the other examples of integration between Android and Windows 11, there is a new usage scenario involving the most powerful Android smartphones and notebooks with GeForce RTX, which is the editing of high-quality multimedia content generated by various Android smartphones. Let's take for example a power user who wants to edit 12-bit RAW files or 8K videos generated by the photographic module of his Samsung Galaxy S21 Ultra, certainly, a simple Windows notebook will not be enough to be able to process files like this with Photoshop, Lightroom and Premiere. heavy.
Point to a notebook equipped with a GeForce RTX graphics card with Studio drivers allows you to be sure, even before buying it, that you will be able to access a series of professional applications accelerated by the GPU. Image creators such as photographers, digital artists, or even Instagrammers will be able to use Adobe Photoshop and Lightroom with neural filters such as Smart Portrait, Super Resolution, Intelligent Sharpness or AI Enhance Details on RAW files. It will be a breeze to edit a heavy 12-bit RAW file like that generated by an S21 Ultra.
For video editors, there is truly an enviable choice. In Adobe Premiere Pro and After Effects there is CUDA rendering that speeds up the export of videos by a lot, even the management of effects, timeline, and reframing via AI are very comfortable. But we're not just talking about the Adobe suite but also DaVinci Resolve with GPU-accelerated color grading and many AI features such as SpeedWarp for smooth slow motion and automatic face recognition for the tag. Even those who use Vegas Pro are covered and if you want to move to an even more professional sector, Redcine X Pro is also optimized with Studio drivers to allow the processing of 8K RAW files without any type of conversion or generation of proxies. Again with a series of such optimizations, and RTX notebook with a Studio driver will handle more 4K and 8K video streams than an S21 Ultra.
RTX Notebooks are the best to pair with Android
After all, those who use an Android smartphone do so for the possibilities offered by the operating system without any kind of constraint, capable of being malleable. Similarly, the RTX notebooks do not impose limits of use, they are perfect machines for tough jobs as well as daily operations. These are machines that leave ample room for maneuver to the user, if after a day of 3D animations with the Studio drivers you want to relax with a bit of RTX gaming with DLSS, you can do it easily.
Then they are extremely configurable notebooks and all very, very, powerful. Hardware power is exactly what an Android user who has always aimed at smartphones that have mind-boggling technical specifications is looking for. Another thing that an Android user always keeps in mind is the price-performance ratio and also, in this case, I notebook with GeForce RTX they start with the RTX 3050, RTX 3050 Ti, and RTX 3060 to get to the RTX 3070 and the much desired RTX 3080 with even higher consumption configurations for maximum performance. In short, based on the budget available, you can choose exactly which GPU to rely on without giving up RTX, DLSS, and Studio technologies.
Often those who use an Android smartphone define themselves as a geek, one who is not satisfied and wants the best even putting his hand to his device. An RTX notebook, frankly, does not need to be optimized by the user but offers a range of possibilities to create, have fun, and work that is difficult to find with other machines. They are complete packages, working stations also dedicated to leisure and multimedia, are all-around RTX notebooks perfect for Android users.
You might be interested in: Ray tracing is the new gaming standard: what it is and why you should try it