After the many rumors about the possible launch and subsequently about the probable postponement of the GeForce RTX 3090 Ti, "comforting" news for fans arrives today from the network NVIDIA and, more generally, for all those users waiting for the new spearhead of the Santa Clara company. In fact, in the past few hours, the portal ITHome has published what seems the first concrete image of the GeForce RTX 3090 Ti, or rather the box of the ASUS TUF custom variant Gaming.
The photo, which looks genuine, was promptly removed after it started circulating on the net, we think to NVIDIA's chagrin; in the following image the new ASUS GeForce RTX 3090 Ti TUF Gaming is taken up, flanked by another probably identical model which confirms the "concreteness" of the next top of the Ampere range.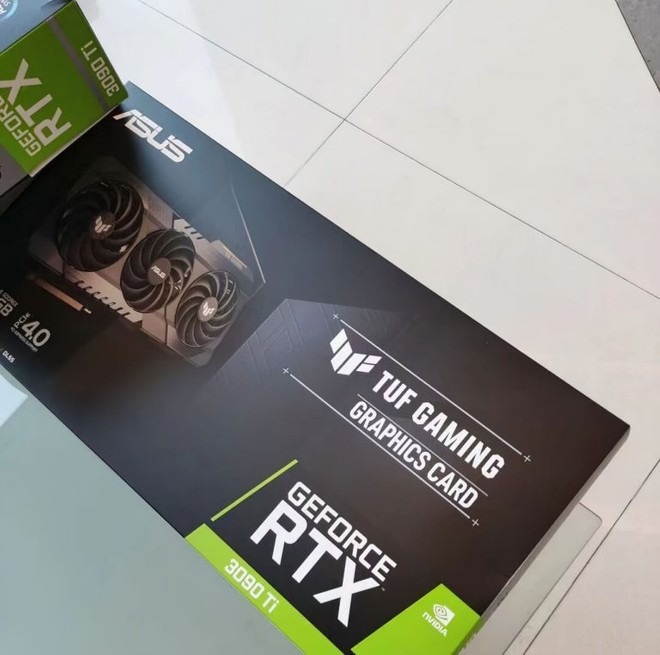 No particular technical details are leaked from the package, except for the interface of the card which, unlike what is hypothesized, will still use the PCI-E 4.0 standard and not the latest PCI-E 5.0. Colleagues from video cards also made a brief comparison between the current GeForce RTX 3090 TUF Gaming and the new RTX 3090 Ti, noting that the fans have been "increased" (even the heatsink we think) to better manage the TDP of the card which, at this point, it should be 450 watts.
Pending definitive confirmation, we remind you that GeForce RTX 3090 Ti will use the most powerful NVIDIA Ampere GPU, namely the GA102-350 with 10.752 Cuda Core and 24GB GDDR6X (assumed at 21 Gbps) on a 384-bit bus. Regarding the price, at the moment no details have emerged (certainly above the $ 1,499 of the RTX 3090 FE), while the CES in Las Vegas is expected for the launch (January 4 with a virtual keynote) with availability and reviews set for the 27th.