The Auro-3D audio format will arrive on Yamaha Aventage RX-A6A and RX-A8A amps at the end of the year. Auro-3D is developed by Auro Technologies to expand the listening experience also vertically, creating a sort of three-dimensional sound bubble that envelops the user and improves identification and realism.
Support for this technology was announced on the two flagship models of the Aventage range last May, at the same time as the presentation. However, Yamaha has not implemented it since its launch but immediately made it clear that it would come via a new firmware. The definitive confirmation came during an event held yesterday November 25 at the Galaxy Studios.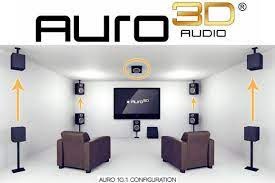 Andreas Rieckhoff by Yamaha e Wilfried van Baelen of Auro Technologies has stated that Auro-3D will be enabled on the RX-A6A and RX-A8A at the end of the year, without indicating a precise date. The amplifiers will manage configurations up to 11 channels and will rely on DSP (Digital Signal Processing) to calibrate and equalize the system.
Advantages can take into account parameters such as the angle of the top canals and the difference in height from the bottom canals. After performing the calibration you can also deactivate the equalization; it is not possible to skip the automated procedure since some parameters cannot be entered manually.