Steve Verze (the man you see in the picture) is an engineer, he is 47 years old and one for a few days 3D printed ocular prosthesis. This is the first time that a solution of this type has been used in place of the traditional acrylic prosthesis: the operation was performed in London, at Moorfields Eye Hospital, where Steve first tried his new eye in November 11th. On November 25, after having undergone the implantation operation which succeeded perfectly, he returned home.
"I have needed an ocular prosthesis since I was 20 and have always felt uncomfortable. This new eye looks great" Verze declared, enthusiastic about the outcome.
Compared to acrylic prostheses, the advantages offered by this new type of product created through the use of 3D printing (a flexible technology applicable to vegetable steaks, bridges or entire neighbourhoods) consists of a decidedly more detailed effect, defined as realistic, thanks also to the fact that it gives a real perception of the depth of the pupil.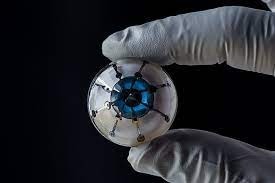 This result is possible because they are used to make the prosthesis in this case eye scans instead of an invasive mould of the eye socket, as instead foreseen by the classical method.
We are probably facing a technological and medical breakthrough that is destined to mark the sector: 3D printed ocular prostheses could establish themselves because they are better than traditional ones, but not only for this. In fact, adoption could also be favoured to the extent that – as Moorfields Eye Hospital points out – the production process is faster.