Announced last May, the Los Angeles urban planner are solar-powered over-ear headphones, able to recharge when exposed to light sources and to offer virtually "limitless" autonomy.
Well, on paper it is certainly an attractive idea that could allow us to cross at least one item from the ever-growing list of devices that we regularly charge every night. But have we really got to the point of being able to have such a product, which at the same time also offers excellent audio quality? Short answer: yes, and they don't even cost much.
THE SECRET IN THE ARCHITECT
Premise: Urbanista was not the first company to make such a product. Taking a step back in time, in 2019 it was JBL who announced solar-powered headphones made in collaboration with the Swedish company Exeter which had provided its innovative panel Powerfoyle. JBL's Reflect Eternal headphones came on Indiegogo but due to the pandemic, they have not yet arrived on the market.
Urbanista has collaborated with Exeter to integrate into his excellent Miami headphones, from which the Los Angeles derives, this Powerfoyle panel that blends perfectly into the design of the headband. The panel is slightly porous and black in colour, regardless of the colour of the headphones that Urbanista has made in both Midnight Black and Sand Gold. There is also in the package a handy case as well as a charging cable.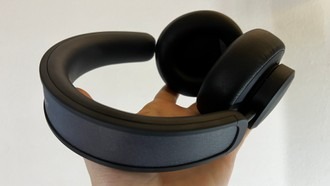 In this panel, it is placed a layer of solar cells that continuously absorb energy when exposed to light, whether it is that of the sun or a light bulb in the house, which is converted into power for the internal battery. The panel is always active, regardless of whether the headphones are turned on or not.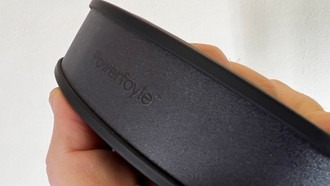 For the rest, the Los Angeles are excellent headphones with wireless connectivity via Bluetooth 5.0 and integrate gods 40mm full-range dynamic drivers. Do not miss the active noise cancellation selectable on three positions: "on", "off" or "ambient sound" and sensors that pause the music when we remove them from the head or if we move them slightly from the ear. If desired, through the app for iOS and Android, the The "detection on the ear" function can be disabled.
WITH THE APP, CONSUMPTION IS UNDER CONTROL
The app itself is another strong point. As soon as it is started, a panel immediately shows us the condition in which the headphones are, if they are being discharged or if they are absorbing energy. Not only that, but we are also told exactly how much energy they are consuming and, possibly, what they are receiving from the solar cells. All expressed in mA.
In "default" mode, without listening to music, 2.4mA is absorbed which rise to 7.2mA when we activate environmental listening, and to 7.3mA with ANC. During playback we go up to 8.8mA, 11mA and up to over 15mA respectively. In closed but well-lit environments, the solar cells are able to absorb between 0.2mA and 2mA maximum.
Putting ourselves to listen to music next to a window, struck by indirect light we can get to about 3mA. Outdoors, on a cloudy day, we will be able to see the indicator go up to 5mA. In the conditions described, therefore, it will be obtained a sort of "parachute" that will cause the internal battery to consume much more slowly.
Obviously, the more the weather conditions allow it, the more the discussion changes. Indirect sunlight, in fact, our indicator will also pop at 24mA which, consequently, not only will not let the headphones discharge but will also allow you to recharge them and we will begin to see also gradually increase the percentage of the battery.
As a guideline, an hour outdoors in the sun will recharge the battery to offer approximately three hours of playback. In practice, if we only used them outdoors, they would be virtually endless. If we only used them indoors, the 750 mAh battery would still offer around 80 hours of listening, with noise-cancelling off, or 50 hours with noise cancelling on).
DATASHEET
Driver: 40mm dynamic, voice coil
Microphone: electret condenser
Echo Canceling: Integrated DSP
Battery capacity: 750 mAh
Weight: 321 grams
Bluetooth version: 5.0
Bluetooth class: 2
Profiles: A2DP 1.3, AVRCP 1.5, HFP 1.6
Codec: SBC and AAC
Range: ≤10 m
Frequency response: 20 Hz to 20 kHz
Sensitivity: 107 ± 3dB @ 1 kHz
Impedance: 32 Ohm ± 15%
Returning to the app, through settings we can, as mentioned, also disable ear recognition and define the function of the physical "control" button placed on the left pavilion, where we also find the Type-C port. We can choose between ANC, ambient sound, voice assistant and an alternation between these functions.
COMFORTABLE HEADPHONES AND GREAT AUDIO
On the right pavilion, however, there are three keys for volume, play, pause, skip tracks and power. Unfortunately, these keys, the ones we interact with the most, are small and very close to each other. Consequently, it will not be easy to find them on the first try and it will first be necessary to "recognize" them by touch with a consequent waste of time.
We will have to live with it. To put the headphones into pairing mode, press and hold the power button for 5/6 seconds. It is not possible to connect to more than one device at the same time.
Another software "flaw", in my opinion, is the lack of an equalizer. On the hardware side, on the other hand, you can hear the lack of a 3.5mm connector which will not allow us to use them via cable. Urbanista would have decided to "sacrifice" it in order to keep the power consumption of the headphones as low as possible. The always valid AAC is used as the codec, so audiophiles may lack a higher quality codec like AptX HD or LDAC.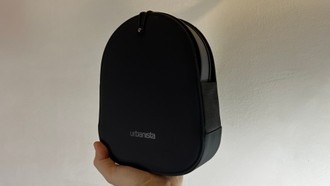 The earphones are made of slightly rubberized plastic, pleasant to the touch but retain some fingerprints. The earpads are in very soft leatherette with memory padding foam that adapts to the ear leaving it comfortable even during long sessions of use. The same goes for the lower part of the bow, soft and well padded.
The quite snug "fit", very comfortable on "normal" heads but a little less on larger ones, play in favour of the noise cancellation which has pleasantly surprised me even if it loses a bit of the three-dimensionality of the sound and fails a achieve the efficiency levels of Bose or Sony WH-1000XM4. Ultimately, it's a more than excellent ANC in relation to the price range of these headphones.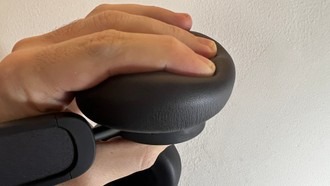 As for the audio quality, these Los Angeles have pleased me with their rich and rounded sound: deep and structured low frequencies that have a slight impact on the midrange which is nevertheless detailed. Bass and mids, however, obscure the slightly more delicate parts of a piece.
The "Ambient Sound" mode increases the external sound but does not lower the volume of the music. Ultimately, anyone who loves energetic music genres will also love the sound of these Los Angeles.
PROMISE KEPT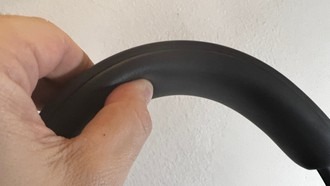 In conclusion, making a pair of headphones like this was not easy, but Urbanista did it and deserves a round of applause. The promise has been kept, the charging system really works. To date, these are the first headphones of the genre and certainly will not be the last. It is easy to assume that other manufacturers will also exploit this possibility sooner or later.
Solar panels apart, Los Angeles are excellent wireless headphones, very pleasant to listen to and with a list price of 199 euros (at a discount of 159 euros on these days of Black Friday) which makes them even more desirable, just like a beautiful sunny day.