Samsung aims to renew its product offering with the launch of a series of new solutions, including an interesting evolution of the current Galaxy Watch. The success achieved with folding smartphones such as the Galaxy Z Fold 3 and the Galaxy Z Flip 3 It's only the beginning. The Korean company, in fact, intends to enrich its range of devices with flexible displays also proposing one rollable smartwatch, with a solution that makes the most of Samsung's latest technologies for displays.
A new patent from Samsung, filed last June at the World Intellectual Property Office (WIPO) and published today, anticipates the introduction of a new concept for the smartwatch sector that could influence the new generations of Galaxy Watches.
The device proposed by Samsung with the latest patent integrates a display with two semicircular parts. Between the two parts, there is a frame that allows you to magnify the screen, increasing the surface by about 40%. As the images attached to the documentation shows, the user has the possibility to enlarge or reduce the display using a physical button positioned on the crown.
The various applications will be able to exploit only one or both parts of the screen with the user having access to various options to customize the use of the display. The central frame also includes a camera, usable for photos and videos. Potentially, this frame can house several types of sensors in addition to a flash. Once the open position is activated, the smartwatch display has an oval shape that allows you to view more content.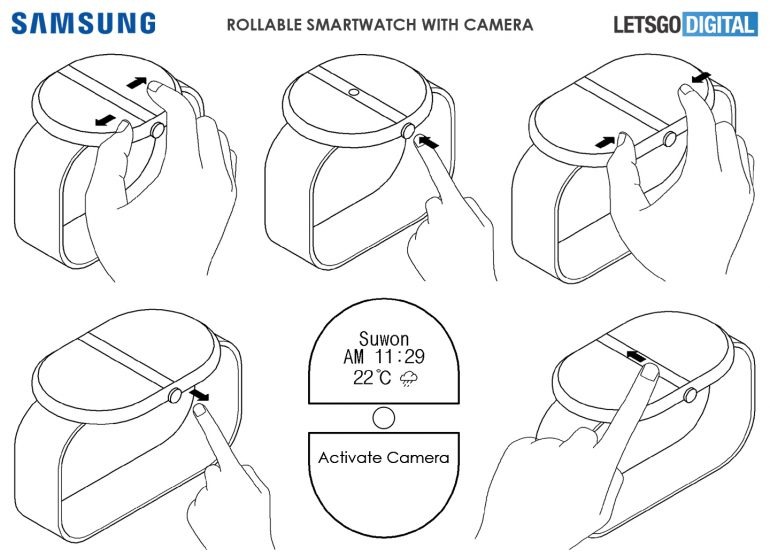 The new possible evolution of the Galaxy Watch range, therefore, integrates various technological solutions that will represent the future of Samsung products. The new patent from the Korean house for this particular rollable smartwatch with the integrated camera is very detailed. Their documentation is 96 pages long and it does not limit itself to describing the design of a project still to be developed.
Samsung's patent anticipates various operational solutions that could feature a future evolution of the Galaxy Watch. The progress made by Samsung in the creation and management of flexible displays will allow the company to give life to a new generation of products, revolutionizing the smartwatch segment (and beyond). The first examples of these new solutions could arrive as early as 2022.