About five months after the official presentation, the Radeon RX 6900 XT Liquid Cooled Edition begins to appear on some European shops, a sign that AMD may have revised its policy regarding the retail sale of this high-end graphics card. The Radeon RX 6900 XT Liquid Cooled Edition is essentially one more thrust version of the RX 6900 XT reference announced last year, equipped with an AiO liquid cooling system and therefore with a slightly higher cost (obviously not taking into account the current price situation that afflicts the market).
At the launch phase, AMD was rather vague about the price of this precise model, mainly because it is a limited edition product intended mainly for OEMs and system integrators. The arrival on the European market of the top of the range RDNA2, therefore, remains "ambiguous" (it goes against the official AMD guides), unless denials or statements from the company arrive.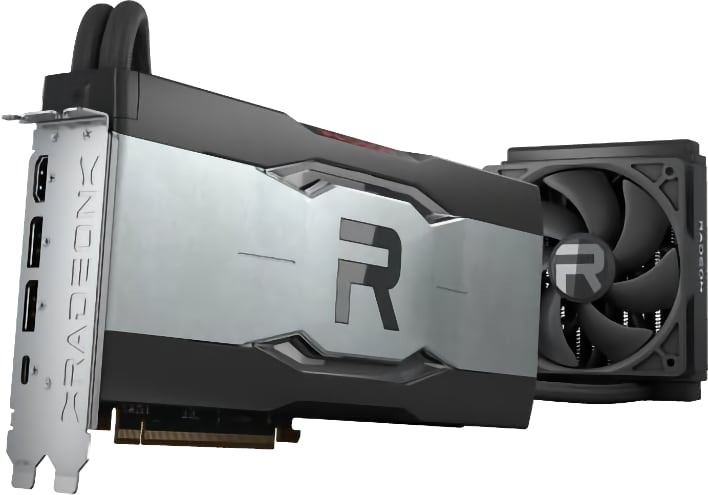 That said, the German retailer Mind factory has added the Radeon RX 6900 XT Liquid Cooled branded PowerColor at a price of 1,749 euros; the card, in fact, had appeared sporadically even in recent months at a slightly lower figure, but in a period where the availability was decidedly different from the current one. In the past few hours Mind factory gave the RX 6900 XT Liquid Cooled with immediate availability, only to subsequently remove the product from the list, we presume right after some reports from AMD.
While waiting to understand how things went, we remind you that although the Radeon RX 6900 XT "reference" has an MSRP of $ 999, in Italy there are currently no variants of the AMD card below 1,500 euros. Referring to the technical specifications, we specify that the GPU remains the same Navi 21 XTX from 5,120 Stream Processor, more boosted in frequency and combined with 18 Gbps GDDR6 memories compared to 16 Gbps GDDR6 of the "base" model; also the TDP changes, it goes from 300 to 330 watts, but in essence, the performances are not extraordinary and widely bridgeable by overclocking any Radeon RX 6900 XT.