The new version of Android released this year by Google has brought many changes such as a new Material You interface, new functions dedicated to accessibility, and the new dashboard for privacy. Other than these, there are a few presents under the hood. Among these is the introduction of the new Bluetooth LE Audio API dedicated to low-power audio transmission via Bluetooth.
It is a new standard that allows you to transmit high-quality audio even at low power by reducing so the consumption and saving battery. It also adds the Multi-Stream Audio support for an enhanced audio experience on truly wireless earbuds, the ability to transmit one or more audio streams to an unlimited number of audio devices, and more. This new standard was introduced by Bluetooth SIG at CES last year, integrating it into the specifications for Bluetooth 5.2.
However, the implementation of this standard on Android 12 is not yet perfect and requires further work but, according to the recent commits in the AOP, it looks like full support will come with Android 13.
A new audio codec for Android 13
As noted by Mishaal Rahman, Google has merged commits that add a type of LC3 codec (LE Audio) for Bluetooth A2DP within the Developer Options. This is a high-quality, low-power codec capable of delivering high-quality audio even at low data rates.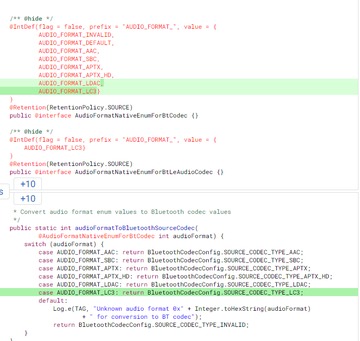 Android 13 may be the first release to add full support for Bluetooth LE Audio.

Google recently merged an LC3 (the LE Audio codec) encoder and is adding the codec as an option in settings. It'll be the highest priority A2DP source codec.

Commits: https://t.co/tXicKLMZbq pic.twitter.com/ZHcd22grEs

– Mishaal Rahman (@MishaalRahman)
As Michael notes, it's unclear whether these patches are enough to enable full support for Bluetooth LE Audio, but either way, we can expect the codec to be ready for the next version of Android.

And what do you think of this novelty? Let us know in the comments
You might be interested in the Best Bluetooth headphones of December 2021