Audi opens sales in Italy of the restyling of its flagship A8 which has introduced some tweaks to the design and new content. A model that was unveiled at the beginning of November 2021. The German carmaker announces that the car will arrive in Italian dealerships during March 2022. With the opening of orders, pricing details also arrive.
VERSIONS TO LAUNCH
Initially, the German flagship will be offered in the variants 3.0 (50) TDI and S8. Later, the TFSI e Plug-in model will come as well. More specifically, the car (also in the long-wheelbase L version) in the version 3.0 (50) TDI Quattro Tiptronic has a V6 3.0 TDI with 48 Volt Mild Hybrid Technology, able to deliver 286 PS (210 kW) with 600 Nm of torque. The top speed reaches 250 km / h, while it takes 5.9 seconds to go from 0 to 100 km / h. The Audi S8, on the other hand, can count on the V8 Biturbo 4.0 TFSI with 571 hp (420 kW) with 800 Nm. Thanks to this power, the sprint from 0 to 100 km / h takes just 3.8 seconds.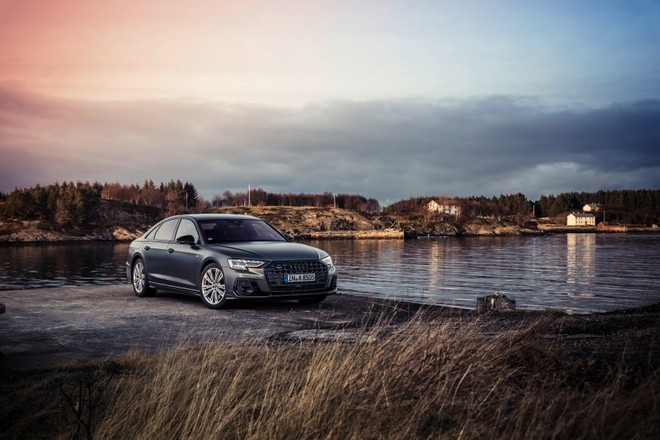 All thrusters have one eight-speed Tiptronic transmission with torque converter. There, Quattro, permanent all-wheel drive is standard. The standard features include adaptive air suspension and progressive steering, capable of adjusting the gear ratio according to the steering angle and adapting the power assistance based on the speed.
Later, as mentioned, the Plug-in model will also arrive which can count on a powertrain that combines a 340 hp (250 kW) V6 3.0 TFSI and a 136 hp (100 kW) permanent magnet synchronous motor (PSM). powered by a 17.9 kWh battery. Overall, the car will have 462 hp (340 kW) with 700 Nm of torque.
PRICES
For the Italian market, Audi A8 starts at 100,800 euros for the 3.0 (50) TDI Quattro Tiptronic variant and from 108,100 euros for the equivalent long-wheelbase L version. Price list from 154,500 euros for the Audi S8. Instead, it starts at 164,150 euros for the Audi S8 sport attitude which adds equipment such as the Digital Matrix LED headlights, the panoramic glass roof, the Audi Matrix LED rear reading lights, the City and Tour assistance packages, the safety package as well as camera-based recognition of signs.