The airbags were launched last April with the aim of being useful accessories for locating objects. But it is a short step from recommended to improper use. There was no lack of fear that these small devices could be used not only to find the bunch of keys or one's backpack but also to monitor the movements of people. So the Cupertino house shortly after the launch introduced measures to improve the aspect of privacy and promised the arrival of an Android app introduced with the same purpose. The app was recently published in the Play Store: it's called Tracker Detect.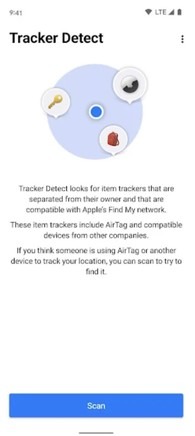 The goal of the app is to allow Android users to locate AirTags and other Apple Find My compatible trackers nearby. As the description says: if you think someone is using AirTag or another device to track your location, you can scan it and try to find it.
If Tracker Detector detects an AirTag far from its owner it flags it with the words "Unknown AirTag". The app can then make the tracker emit a sound notification within 10 minutes of detection. Apple clarifies that detection can take up to 15 minutes after the device has separated from its owner. When the app identifies an AirTag it provides instructions to disable it (specifically it says how to remove the battery) and to acquire device information (including the serial number) via NFC connectivity. Finally, the app suggests the user to contact the police if they believe they are being unduly monitored. Keep in mind that, unlike what happens on iOS, the app does not perform a background scan of the tracker: the operation is performed only after manual startup.
An Apple spokesperson explains to Cnet colleagues:
AirTag offers industry-leading security and privacy features and today we are extending new features to Android devices. Tracker Detect gives Android users the ability to search for an AirTag or Where Is enabled object trackers that they may be traveling with them without their knowledge. We are raising the bar for the privacy of our users and the industry and we hope others will follow us.