About a month and a half after the arrival of iOS And iPadOS 15.1, watchOS 8.1, And tvOS 15.1, Apple has publicly released iOS and iPadOS 15.2, tvOS 15.2, And watchOS 8.3 (strangely 8.2 was skipped). Also released to the public macOS 12.1 Monterey.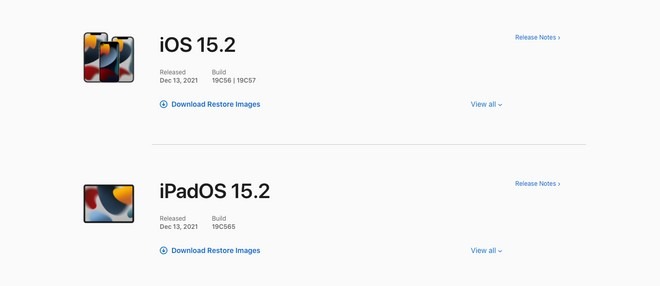 HOW TO INSTALL THEM
All updates are available, both in OTA (Over The Air) mode from "Software Update" in "Settings" on iPhone and iPad, and through iTunes. To download you need to be connected to a Wi-Fi network and it is advisable to have at least 50% of the remaining charge or rather, to keep the device connected to the mains during the update. On iPhone and iPad Pro with 5G connectivity, it is also possible to download updates via cellular network after having previously activated the possibility to do so via network settings.
The update to watchOS 8.3 for Apple Watch requires connection to the charger and autonomy of at least 50%. To proceed with the update it is necessary to download it via the "Software Update" section in the General menu of the Watch application. The tvOS update it will be done automatically as soon as it is made available on the servers unless manual mode has been selected in the settings. The update of macOS 12.1 Monterey can be downloaded and installed directly from the appropriate menu in the system settings
ALL THE NEWS OF IOS AND IPAD'S
iOS 15.2 adds Apple Music Voice Plan, a new type of subscription that provides access to music via Siri. This update also includes the App Privacy Report, new child and parental safety features in Messages, and other features and bug fixes for your iPhone.
With iOS 15.2 the "Privacy report for apps is", a feature that allows users to view app activity in a new section of Settings. The data will start showing once the apps are used. If you want, you can still disable it.
A button has also arrived in the camera app of the iPhone 13 Pro and iPhone 13 Pro Max to manually activate the macro mode if the automatic mode is deactivated. News also regarding the search for AirTags and the "heir contact" to leave one's digital heritage.
Communication Safety allows you to automatically blackout any images deemed inappropriate by the machine learning algorithms present directly on the device. Once potentially explicit content has been detected, a message will be displayed in which minors (up to 13 years old) will be notified of sending a message to their parents in case they decide to view it anyway. The messages are different and offer a variety of advice on how to behave. Image control is performed on the device, does not affect end-to-end message encryption, and no indication of potentially explicit photodetection will leave the device. Apple doesn't have access to Messages. The feature can be enabled by parents and is "opt-in" rather than enabled by default.
Other new features in iOS 15.2:
Hide My Email is available in the Mail app for iCloud + subscribers to create unique and random email addresses
Where is it can locate iPhone for up to five hours in Power Reserve
Stocks allows you to view the currency for a ticker and see performance since the beginning of the year when viewing charts
Reminders and Notes now allow you to delete or rename tags
Also fixed several bugs:
Siri may become unresponsive while VoiceOver is running and iPhone is locked
ProRAW photos may appear overexposed when viewed in third-party photo editing apps
HomeKit scenes that include a garage door may not be played by CarPlay when your iPhone is locked
CarPlay may not update Now Playing information for some apps
Video streaming apps may not load content on iPhone 13 models
Calendar events may appear on the wrong day for Microsoft Exchange users
WHAT'S NEW IN WATCHES
Regarding watchOS 8.3, here's the changelog:
The Apple Music Voice plan gives you access to all Apple Music songs, playlists and stations via Siri.
Support for app privacy report, which allows you to monitor access to data and sensors.
Fixed an issue where notifications could unexpectedly interrupt Mindfulness sessions for some users.
WHAT'S NEW IN MACOS
Finally, here is also the changelog of macOS Monterey 12.1
macOS Monterey 12.1 adds SharePlay, a whole new way to share experiences with family and friends in FaceTime. This update also includes the Apple Music Voice Plan, new child and parent safety features in Messages, Redesigned Memories in Photos, and other features. In Photos, memories have been redesigned with a new interactive interface, new animation and transition styles, and multiple image collages.
Also fixed several bugs:
The desktop and screensaver may appear blank after selecting photos from the Photos library
The trackpad may not respond to taps or clicks
External displays may not charge some MacBook Pro and MacBook Air computers when connected via Thunderbolt or USB-C
Playing HDR videos on YouTube.com may cause MacBook Pro 2021 computers to freeze
Extra menu bar icons may be obscured by the camera notch on MacBook Pro 2021 computers
MagSafe may stop charging on 2021 16-inch MacBook Pro computers when the lid is closed and the system is off