BMW continues to offer small updates on the new i7, the electric flagship that will be launched during the year together with the new generation of the 7 Series. A model that is of great importance for the brand since it will offer all the most advanced technologies that BMW has developed for its electric cars. But a flagship is also synonymous with luxury and above all also with great comfort.
MAXIMUM COMFORT FOR PASSENGERS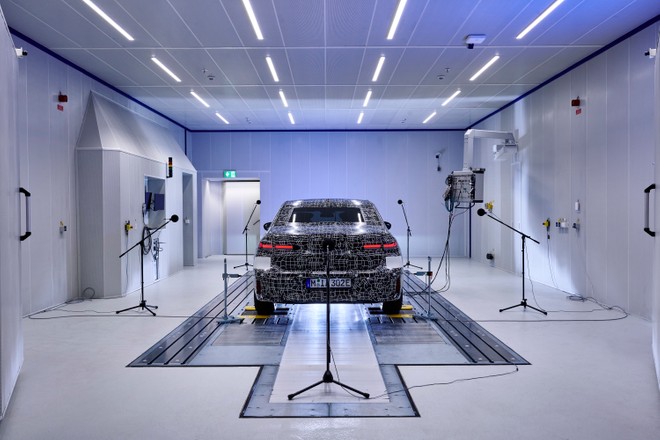 And speaking of comfort, the automaker emphasized the great work it has done for eliminate any possible source of annoying sounds for the occupants. An even more important job when it comes to electric cars. As we know, the absence of the internal combustion engine makes these cars very quiet. But it is precisely this "silence" that makes it possible to better perceive other kinds of noises that were previously covered by those generated by the engine.
So, BMW took the new i7 to its Research and Innovation Center (FIZ) in Munich for a series of tests. Different sources of noise were analyzed such as tire rolling, aerodynamic hiss and much more with the aim of evaluating the acoustic qualities of the new electric flagship.
As explained by the company, the most annoying noises detected by the engineers during the test drives were recorded and then recreated in the laboratory so that they could be "selectively eliminated". The company has not gone into many details but has highlighted some construction choices that have made it possible to guarantee very high acoustic comfort for the occupants of its new car. For example, the electric flagship has special tires to minimize rolling noise and vibrations.
BMW has also worked a lot on aerodynamics to eliminate possible sources of noise. For example, the shapes of the rear-view mirrors have been aerodynamically optimized and the door handles are flush with the body. In addition, the flagship adopts acoustic-insulating glass and new-generation sound-absorbing materials to further improve ride comfort.
Thanks to this careful work, therefore, passengers will be able to enjoy maximum comfort while traveling inside the new BMW i7.