Among the many instant messaging applications Facebook Messenger is certainly not the most "eventful" as regards the introduction of new features but also its developers from time to time enrich the user experience offered with interesting goodies.
And in the past few hours, details have emerged relating to a new function that Facebook is working on and which should allow users to easily share the payment of common expenses (think, for example, of a dinner at a restaurant).
According to what is made known through a post on the official blog, the Facebook Messenger team has kicked off the tests of Split Payments, which is a solution designed to provide users with a free and fast way to share the cost of bills and expenses.
From next week, users in the United States will be able to give money to their friends in a group chat or from the payments hub in Facebook Messenger, all through a very simple procedure: it will be enough, in fact, to press the Start button to start the payments, choosing whether to divide a sum of money equally among all members of a group or assign each person a specific amount (it will also be possible to add a customizable message).
The money will be sent via Facebook Pay and, once the payment has been made, the sending of the requested sum will be reported in the group chat.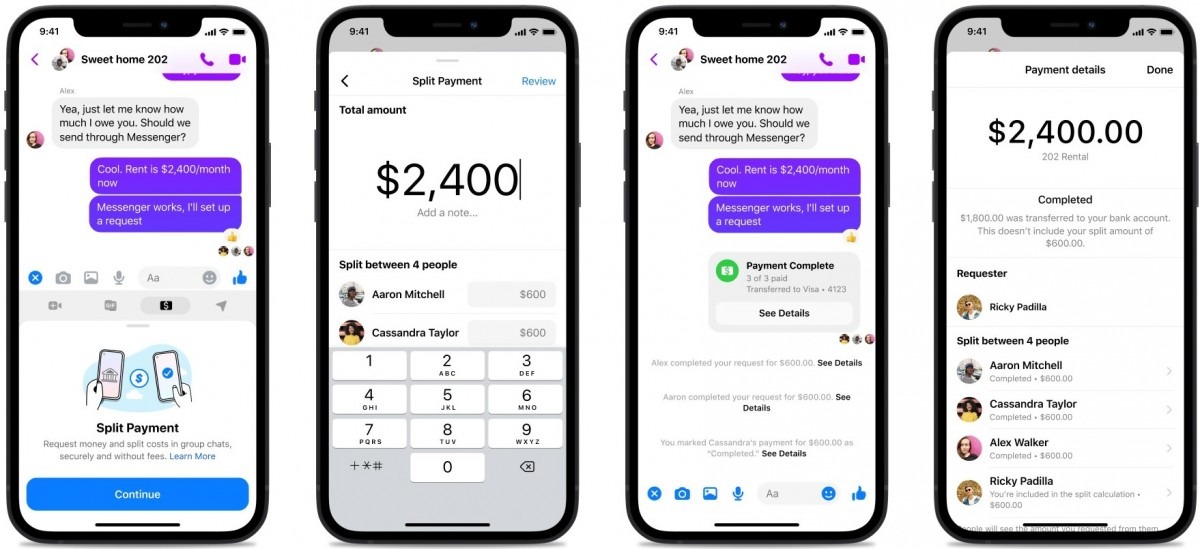 Other small news for Facebook Messenger
The news of Facebook's messaging app doesn't stop there, as the developers have announced that they have introduced other Group Effects with Augmented Reality made by King Bach, Emma Chamberlain, Bella Poarch, and Zach King.
And again, new ones have been published soundmoji dedicated to the Stranger Things soundtrack and Taylor Swift's album Red.