After talking to you about the limitation introduced by OnePlus with OxygenOS 12, let's go back to dealing with the new version of the customized interface of this manufacturer based on Android 12 for another bad news: a few days after the release of OxygenOS 12 for OnePlus 9 and 9 Pro, in fact, the Chinese company's developer team has decided to suspend operations.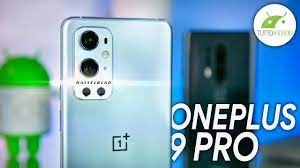 Probably the decision of OnePlus will not surprise the most attentive fans to the events of the company, as since the first hours of availability of OxygenOS 12 the high number of bugs present in the interface was quite evident, so much so that the complaints of users have gradually multiplied.
A possible remedy to improve the user experience after updating the OnePlus 9 and 9 Pro to OxygenOS 12 seems to be that of restoring the device to factory settings, which is a solution that is not appreciated by users due to the inevitable consequences it brings with it. as for the time to devote to it.
The update to Android 12 for OnePlus 9 and 9 Pro has been stopped
We remind you that with this update the Chinese manufacturer not only introduces the news of Android 12 but increases the integration between its interface and ColorOS, the customized OPPO UI (which apparently has not met the success hoped for by the company), and also, for this reason, is particularly eagerly awaited by users.
The OnePlus team stated that they are aware of the problems encountered by users with OxygenOS 12, adding that they have already set to work to solve them as soon as possible. For this reason, the manufacturer has decided to suspend the software update, committing to releasing a new improved version in a short time.
Unfortunately, at present there is no information on how long the bug resolution and interface optimization work will go on, and, therefore, the owners of the OnePlus 9 and 9 Pro have nothing to do but be patient.