After 2020 marked by lockdown and curfew, 2021 has not seen the pandemic emergency end. But there was a return to sociality, including the trailer: and then the swipes on Tinder are back in overwhelming relevance. The famous dating app, as is now the tradition of the various social platforms, has decided to share some statistics that provide a sort of mapping of the hottest habits among users over the last 12 months, from the most used emojis to the most popular music.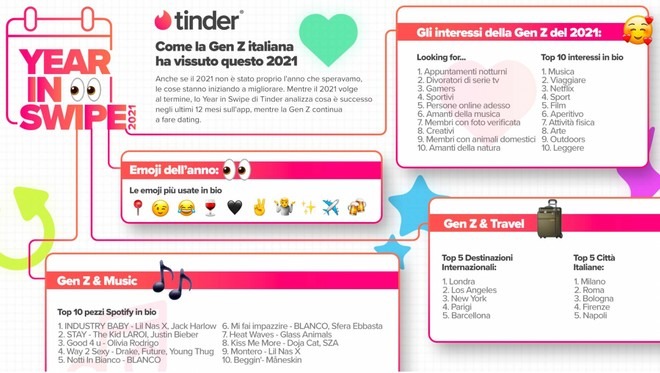 As for the "looking for" section, the first place could only be "night appointments", to put the record straight. Wanting to better define their personality, users then highlight their passion for TV series And video games, while there is a sporting activity, yes, but it comes only later, in fourth place.
Their music, on the other hand, occupies the first place among the interests that users are keen to highlight in their biography. Unsurprisingly, in second place we find I trips, with the favorite international destinations being (in order of preference) London, Los Angeles, New York, Paris, and Barcelona, ​​while as regards the Italian ones the throne is Milan followed by Rome, Bologna, Florence and Naples.
Between emoji, the palm of the most used goes to that of the two wide eyes, which in 2021 has seen a dizzying increase in use, equal to 40%. The fact that expressiveness is limited to the eyes and their expression (ambiguous, halfway between malicious curiosity and shyness or fear), in a historical moment where the face is often publicly covered by masks, may not be accidental.
Video calls as a preliminary option, preceding the first date, are increasingly popular with 52% of Tinder biographies globally mentioning them explicitly, as well as the terms "covid" and "lockdown".