The third Beta build of One UI 4.0 is rolling out on Samsung Galaxy S10, S10 Plus, S10 5G, S10e, Note 10, and Note 10 Plus: the company announced it on its official forum in Korea. The first build arrived in early December, while the second just a week later. The changelog of the latter, ZULB version code, is less full-bodied than that of the previous one, in any case, we report it below:
Fixed an issue where every now and then photos and images were not correctly saved in the gallery.
Fixed an interface slowdown when receiving a notification. +
Fixed a connectivity issue with the AKG N400 TWS earphones
Fixed an issue in the Korean version of the File / Gallery app
Fixed a frequent malfunction of filters
It is interesting to observe that the same build, with just that code, was released on the Galaxy Note 20 a couple of weeks ago as Beta 4. According to the roadmap leaked in recent weeks, the S10 and Note 10 should also receive the stable update during January, together with the S20 (for which the conclusion of the Beta program has already been declared), with the Note 10, with all the previous generation leaflets and with the Note 20. In summary: practically all the top of the range of 2020 and 2019.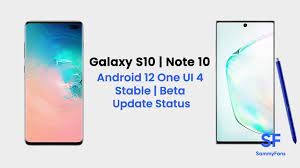 The new Beta is in distribution in South Korea already, and in the next few days, it should arrive on all devices enrolled in the program. The very early stages of the One UI 4 are proving to be rather difficult, with Samsung having been forced to suspend distribution both on the latest generation folded and on the S21 (even if only in Korea). However, the problems seem upstream, in the sense that in general, it is Android 12 that has too many bugs.
One of the most immediately evident innovations of the new software version is "Color Palette", which allows you to choose colors for the menu items coordinated with the chosen wallpaper: a sort of counterpart of the dynamic theme implemented by Google in Android 12 base. There are also more privacy and security features, a new widget design, and a general improvement of all native apps.
(updated December 28, 2021, 08:07 am)