Another instalment of the games of the week with this chapter # 15. This chapter # 14 of the games of the week we are going to go through several games of quick games that have passed through the table this week. During the weekend we have played several short games with very good results, a few novelties and others that have been in the toy library for a long time.
Today we are going to talk about one more game, given the number of board games that have appeared in the 3 sessions that Julio and I gave each other.
---
Games of the week # 15 – Short games.
Chapter # 15 of the games of the week in which I am going to compile several games trying to focus on short-term board games, with short duration and that, in some cases, have only been published for a short time. Issue # 16 will come after my trip to the Minas Tirith conference in Santander in which I hope to play oddities with Gixmo, Satanuco, Julio and Max; in addition to some hard game that will fall for sure. Until then I leave you with the list of games of the week # 15
---
Players: 2
Weather: 30 minutes
Hardness: 1.67
Age: 8+
Author: Geonil
Editorial: Arrakis Games
Games: 4 games, advanced mode.
Genre / Mechanics: Card Game – Tricks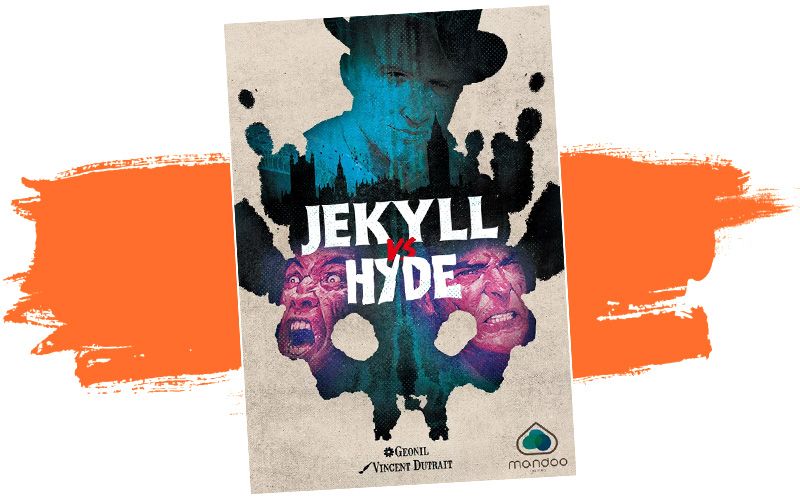 Jekyll Vs Hyde is a game of tricks for 2 players, where they both try to gain control of Jekyll's mind. A game lasts 3 rounds, in which we will compete by playing tricks with 3 different suits and potion cards that can change their effects from game to game.
Possibly this is one of the novelties that has come home with the most hype. I love tricks games, if possible at 2 because that is the number I play the most. The Jekyll vs Hyde design exercise is very interesting, but the imbalance between one and the other I think detracts from the experience a bit. Although it is true that the proposal is very different from others … the game would have been an outstanding one if they had managed to balance it.
In Jekyll vs Hyde, one of the two parties fights for the balance in the tricks, while Hyde tries to unbalance them. Hyde is going to fight to get 10 tricks apart over 3 rounds; otherwise, Jekyll will win. The game proposes roundtrip games, each with a different character, a sign that both 2 are quite unbalanced. Despite all this, the game is very enjoyable, it stands out for its great production and the tension in the games.
---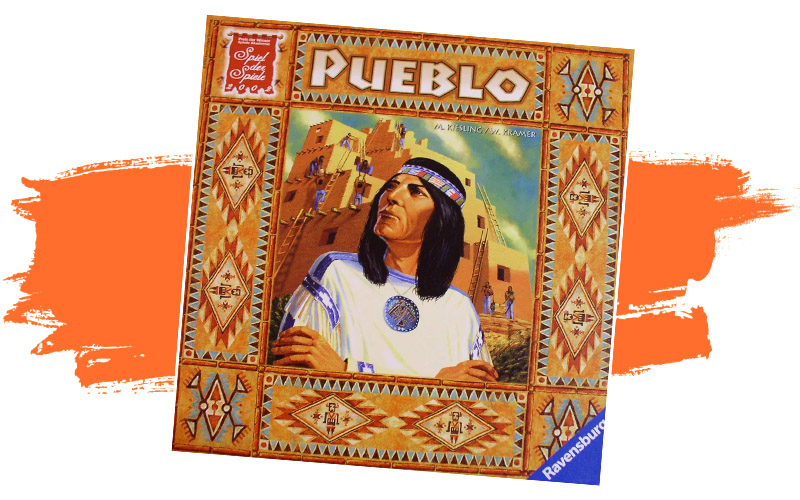 Pueblo is an abstract board game with three-dimensional pieces, which we will place on a board with a grid divided into 4 sectors. A foreman pawn will move around this board, penalizing us for the pieces of our colour in the view from his perspective. Yes, Town is a board game in which you only earn negative points and you must avoid scoring more than the others.
One of the games that makes the most noise among advanced players just because it is difficult to find in Spain. Good game and very enjoyable for 2 players. What happens with these games is that while they are good they are still not at the top of their range. Pueblo is an abstract court board game that is below quite a few of the GIPF projects and other abstract ones. Even though it is very good and original, I cannot avoid that part of its appeal is in how difficult it is to achieve.
It was the first game of July and he liked it a lot. As I said, I am very curious to know if the game would succeed if it were released again.
---
Players: 2 to 4
Weather: 30 minutes
Hardness: 2.16
Age: 8+
Author: Dan Cassar
Editorial: Gen-X Games
Games: 2 Games
Genre / Mechanics: Card Game – Patterns, Tiles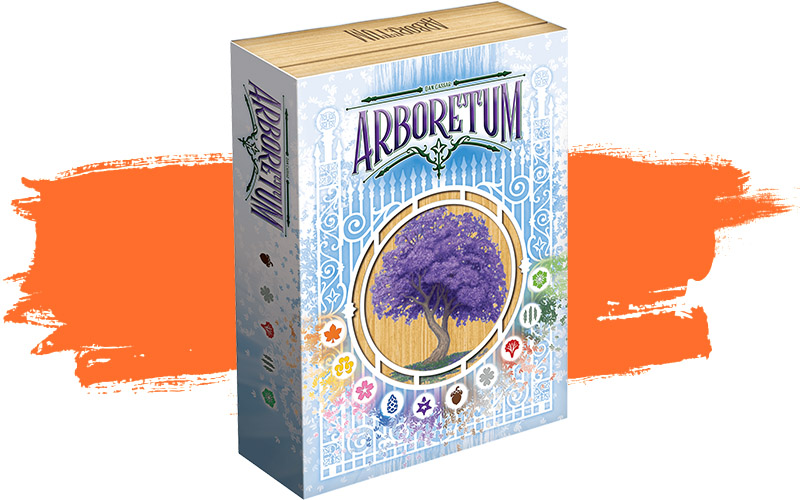 Nowhere is the beauty of nature more evident than the resplendent colours of an arboretum. At Arboretum you will create meticulously planned trails for your visitors to stroll and enjoy the colourful explosion of leaves and buds. The joyous cherry blossom, the fragrant dogwood, the mighty oak – all have their place in this peaceful idyll.
But underneath this quiet place lies a game of competitive spirit. You will have to choose which cards to plant in your arboretum and which to keep in your hand, as only the most experienced conservator will gain prestige among nature enthusiasts around the world.
Here we enter the short top pitch. The arboretum is a simple game with a draft form that keeps the game tense all the time. At the end of the game you have to have more value in your hand of the trees that you want to score than your opponent, so not only is it enough to control the adjacencies and optimize patterns, you have to pay attention that your opponent is going to score more to try to cancel your scores. It seems like a piece of the game to me and as soon as you get the hang of it, games to 2 are tense until the end.
---
Players: 1 to 5
Weather: 15 – 20 minutes
Hardness: 1.52
Age: 8+
Author: James Emmerson
Editorial: Damn Games
Games: 3 games to 2
Genre / Mechanics: Filler – Cooperative, Hand Management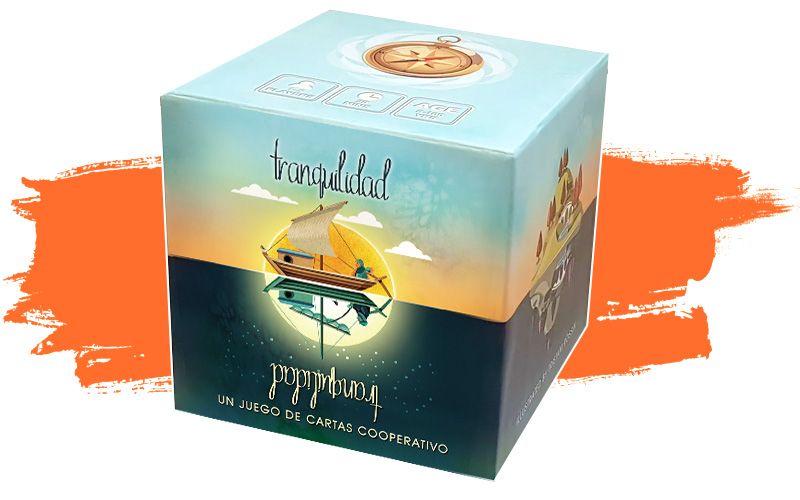 James Emmerson proposes a cooperative card game to play in silence. The objective is to complete the grid before any player runs out of available actions, having placed at least one Start card and one End card.
In addition, it includes variants that add new ways of playing, modifying the end-of-game conditions and the shape of the grid; and expanding Rough seas, with new cards that increase the difficulty.
A pleasant surprise in terms of easy co-ops this summer. In Tranquility, we are going to form a "snake" of cards with increasing numbers from 1 to 89. We have the premise that every time a card is placed adjacent to the other you must discard as many cards as the difference with the adjacent card.

All this is in a game that limits communication and in which we must deal with what we assume the rest of the table has in hand. Entertaining, simple and available to anyone. It goes on sale very soon and it will surely be one of the Christmas recommendations from all this list of games of the week # 15
---
Players: 2 to 5
Weather: 30 – 45 minutes
Hardness: –
Age: 10+
Author: Cédric Martinez
Editorial: Helvetiq
Games: 5 games to 2
Genre / Mechanics: Family – Deduction, simultaneous selection of shares
Patient zero has been identified and it is up to you to find the antidote as soon as possible to save humanity. In-Patient Zero, two labs will compete to be the first to find the three-molecule antidote. Another player will master the game.
Another nice surprise this week. Save the Patient Zero is a Tricoda, a Criptyd, or a Break the Code. One of those games of deduction and direct competition between players in which we try to find 3 molecules of a virus using tools that give us clues in different ways. Once you control the skills it becomes very simple, we return to a game that is available to everyone and that has an advanced mode in which events that transform the game will be played.
As negative points are the odd-numbered games and team games, from my point of view this should be an exclusive game at 2. The game has an application that allows us to play alone but I find it quite poor and not very intuitive.
---
Players: 1 to 100
Weather: 30 – 45 minutes
Hardness: 1.89
Age: 10+
Author: Jordy Adam
Editorial: Gen-X Games
Games: 4 games
Genre / Mechanics: Filler – Roll & Write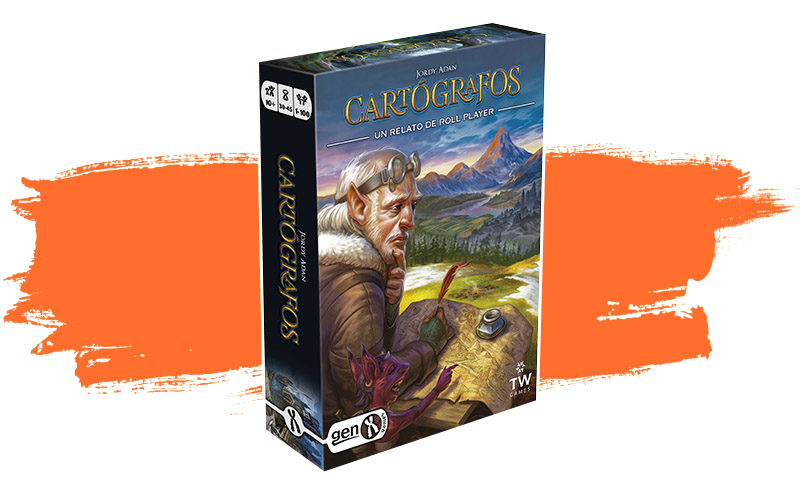 In Cartographers we will have to draw the map of our kingdom in the best possible way.
We will exchange the dice for cards and we will play through 4 seasons. In each station there are 2 active edicts, these edicts are missions that we will have to complete in each station. One of the peculiarities of this Roll & Write is that in the decks of cards of each station there are different monsters that we can put on the maps of our opponents to subtract points each turn.
This is my favourite Roll & Write, in fact, it is a Flip & Write; I don't know for what reason I tend to like them more. Cartographers entered the house with all the expansions and maps except one (which will end up coming as soon as possible). Throughout 4 stations (rounds); spring, summer, autumn and winter we will draw cards from a deck that invite us to fill in a bush with the intention of covering the territory while we comply with edicts.
The game proposes several twists and turns with respect to others of its genre, it even adds the possibility of introducing interaction based on including monsters that we will paint on the map of our opponents to subtract points. Each of the maps and expansions changes the game in very interesting ways. This would be, for me, the only R&W together with Hadrian's Wall that I would have in my playroom. Undoubtedly one of the winners of this compilation of the games of week # 15.
---