The last few weeks have brought some pretty relevant news for HDMI, the interface that has become the standard for high definition signals in the home cinema market. HDMI Licensing Administrator (HDMI LA), the consortium that manages everything related to HDMI, has communicated two important changes: the first consists in the disappearance of HDMI 2.0, which simply becomes a subset of features embedded within HDMI 2.1.
The second novelty announced relatively quiet over the last few hours, is instead the arrival of HDMI 2.1a, the latest revision of the format that adds more features to HDR handling. Yes especially of Source-Based Tone Mapping (SBTM), a functionality that is added to the rest of the specifications without introducing new formats, as we will see in the dedicated chapter. The maximum bandwidth supported to date is not even touched, which is why it will be possible to prepare firmware updates for products already on the market.
Let's see in detail all the changes recently made to the format.
Index:
HDMI 2.0 DISAPPEARS, ALL PRODUCTS WILL BE HDMI 2.1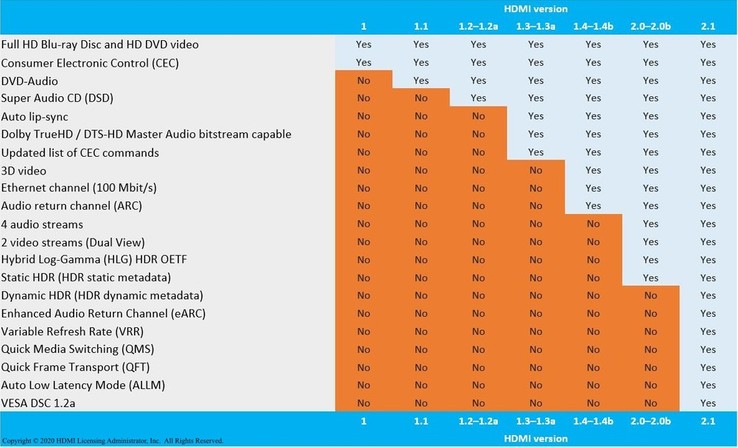 HDMI 2.0 is destined to disappear and be incorporated into the features of HDMI 2.1. Each version of HDMI is backward compatible and therefore all the specifications of HDMI 2.0 are present on every product equipped with an HDMI 2.1 connector. Why did this happen? It is simply no longer possible to certify products as HDMI 2.0 compliant. The direct consequence is that HDMI 2.1 will be used on all new outputs, even in the absence of any feature related to the most updated version.
This aspect risks creating considerable confusion in the less informed or technology-savvy user. The HDMI consortium explained to us that an additional requirement is still necessary to be able to talk about HDMI 2.1 within the specification: manufacturers will need to indicate which HDMI 2.1 features are supported. However, this is not new: despite how the news has been treated by various newspapers, on HDMI.org it has always been indicated that the wording HDMI 2.1 can only be used when it is associated with one or more of the functions or features listed in the specs, as we made clear in our guide. There is therefore no doubt that the wording "HDMI 2.1" has never been the guarantee of total support.
All brands that use HDMI will therefore have to specifically indicate the scope of compatibility ensured by each product. However, some criticalities remain evident. The first is directly linked to the impossibility of certifying products as HDMI 2.0. Previously, HDMI 2.1 was used only for features such as eARC, Auto Low Latency Mode, Variable Refresh Rate, High Frame rate, etc., that is, only when at least one of the innovations introduced by the last revision was present. From now on we can instead mention HDMI 2.1 even when none of the aforementioned technologies are supported. Manufacturers will only need to indicate that the port or ports present are compatible with that subset of functions that are no longer referred to as HDMI 2.0., but that fall under HDMI 2.1 via backward compatibility.
An example has already been had with a Xiaomi monitor: the data sheet indicates that the 2 HDMI 2.1 support TMDS (Transition Minimized Differential Signaling), a solution developed by Silicon Image and initially adopted for the Digital Visual Interface (DVI). HDMI 2.1, in its complete form, maintains support for TMDS to ensure the operation of all devices, but takes advantage of the new Fixed Rate Link (FRL) technology which can operate on a maximum of 12 Gbps for 4 channels, thus reaching 48 Gbps representing the ceiling set in the specifications.
At this point, the difference from the past is therefore clear: a manufacturer can declare that his TV, monitor, projector, etc. is HDMI 2.1 specifying that it supports either one of the features previously referred to as HDMI 2.0 (such as TMDS), or one of the new functions. related to the latest version. Therefore, if it has always been necessary to check the technical data sheets well to make sure that the new purchase has everything you need, from now on you will have to do it with even more attention.
The second criticality that we detect is that the system presupposes compliance with the directives by all operators. If everyone adapts it will be enough to check the specifications to get a clear picture; the complexity for users will increase but there will still be a way to protect themselves. There are no guarantees that everyone will do this though, and we've already had an example of this with cables. HDMI LA has always stated that it is not allowed to juxtapose the HDMI version to cables: that is, you should not sell HDMI 2.1 cables, whose correct name is Ultra High-Speed ​​HDMI Cable. Anyone who has searched on the internet, because of purchase, knows very well that at the expense of directives there are many cables sold just like HDMI 2.1. For this reason, we do not feel so sure that everyone will provide the necessary information in great detail.
HDMI LA however wanted to underline that the situation will be monitored and that any violations reported will be subject to careful investigation. We, therefore, recommend that users base their purchases on the functions deemed necessary for their needs: those who are passionate about video games must check the presence of Auto Low Latency Mode, Variable Refresh Rate and support for 120 Hz, film enthusiasts must verify the ability to view HDR content in formats with dynamic metadata and so on. Relying on "HDMI 2.1" alone was wrong before and is likely to be completely misleading shortly.
HDMI 2.1A: SOURCE-BASED TONE MAPPING IS HERE
The announcement of HDMI 2.1a came without particular emphasis: for the official presentation, we will probably expect the start of CES 2022 (5 – 8 January). By browsing the HDMI.org site and using the Google cache, you can find various information, some of which are entered in advance and then removed. The main novelty is the one we have already mentioned above: Source-Based Tone Mapping (SBTM).
What is it about? Tone-mapping is the processing performed by televisions, projectors, and monitors (virtually any device with a screen and compatible with HDR) to adapt the brightness of the content to the characteristics of that particular product on which the content is being displayed. SBTM was created to overcome a limit currently present: the tone mapping performed according to the systems used to date does not normally take into account the characteristics of the screen.
HDMI LA specifies that this approach is not a problem when it comes to formats such as HDR10 and HLG, as TVs usually apply tone-mapping going beyond what the panel offers in terms of peak luminance. This means that a certain margin is always kept. However, it happens that some sources combine HDR with other formats, such as HDR with dynamic metadata, the SDR (Standard Dynamic Range, the standard dynamic range), And graphics. For example, this is the case with video games or menus on streaming services such as Netflix, Prime Video, etc.
A practical example has been had on several occasions with some consoles or external sources: it is not at all rare that the activation of HDR leads to unpleasant effects, with some elements of the interface forced into HDR (when they would not be) and therefore displayed with unnecessarily high luminance peaks, so much so that they are sometimes annoying (especially if the backgrounds are dark). The same goes for colors, which can undergo a conversion in larger spaces as useless as it is incorrect, given that the original colors refer to the much more restricted Rec. 709 (red becomes ultra-saturated like the skin tones shown inside the posters).
This happens because the optimization of the mixed elements in HDR, SDR, menu, etc. requires an elaboration carried out by the source and not by the screen, which simply receives the signal without being able to distinguish one element from the others anymore, ending up treating them all in the same way. SBTM solves this limitation by moving tone-mapping processing from screen to source, along the lines of what was already happening with Dolby Vision Low Latency Mode. SBTM connects the screen and the connected device via HDMI to optimize HDR management.
The source can thus send a signal capable of fully exploiting the characteristics of that particular screen, adjusting the video output to squeeze its full potential. It is therefore a tone-mapping that is not simply based on a fixed set of colors and a fixed luminance range (same as for non-dynamic HDR formats): it is the source that adapts all these values ​​to the panel to which it is connected.
SBTM is designed specifically for gaming PCs and consoles since it allows you to replicate the function of HGiG, the standard promoted by HDR Gaming Interest Group. Thanks to HGiG it is possible to optimize the performance of HDR games based on the characteristics of the connected TV: to do so, however, manual intervention is required to optimize the result. The usefulness of SBTM is that manual adjustment is no longer required.
Finally, HDMI LA specifies that Source-Based Tone Mapping is not a new format that is added to the existing ones but translates into an extra function for all HDR compatible products. It can be implemented on all set-top boxes and many can be updated thanks to the new firmware. The same goes for TVs, projectors, and monitors: compatibility can be extended through updates and will be required both in the source and in the device receiving the signal. HDMI 2.1a should also make some improvements to Quick Media Switching (QMS: we talk about it in detail here) and HDMI Cable Power, i.e. the ability to power active HDMI cables directly from the connector, without requiring an additional cable. More details will come shortly from Las Vegas.